2009-03-13 01:28:43 - By Dave Manuel

Review of Forexyard




Click Here to Open an Account at Forexyard - Cash Back of Up to $300 on Your First Deposit


The forex (foreign exchange) market is massive.

According to the Bank for International Settlements, the average daily turnover in global exchange markets is nearly $4 trillion dollars. This completely dwarfs the size of any other market - you could put the average daily $ turnover of the NYSE, Nasdaq and any other financial exchange in the world and it still wouldn't touch the forex market.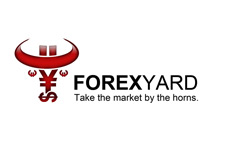 The forex market is the place where the trading of currency takes place, and Forexyard.com is a player in this industry.

Forexyard allows you to open an account and start participating in the trading of currencies for your financial gain.

One of the biggest advantages of trading currency (compared to trading stocks, options or other financial instruments) is the liquidity of the forex markets. Due to the massive amount of money that is traded on a daily basis, the forex market is extreme liquid. This means:

1. Extremely thin spreads.
2. The ability to easily enter and exit trades.

Forexyard allows their customers to trade in a wide variety of different currency pairs, including:

EUR/USD, USD/CAD, EUR/CAD, USD/JPY

Forexyard also offers spot trading in oil, gold and silver to its clients.

Another one of the benefits of forex trading is the massive amount of leverage that traders can employ. Forexyard gives its traders 200:1 leverage (meaning, a customer must have 0.5% of the value of their positions in their trading account in order to execute a trade.

Because of this leverage, customers at Forexyard aren't required to have large amounts of capital in their accounts.

As a matter of fact, Forexyard offers "SuperMini" accounts that can be funded with as little as $100.

Customers with Forexyard can deposit to their accounts with credit card (Visa, Mastercard, Diners Club, Maestro) or bank wire.

This speeds up the account opening process considerably (being able to deposit via a credit card), and you should be up and running in no time (we're talking minutes). Compare this to a traditional online brokerage account, which can take weeks to sign up for and fund.

Forexyard is currently offering a free trading course and risk-free "practice" account with $10k to those who are thinking about testing out the waters of the forex industry.

If you have any questions or concerns, Forexyard offers a 24-hour Trader Support Center that is fully staffed during the trading week.

Worried about losing more money than what you originally put in? Don't be - Forexyard automatically closes a transaction if you happen to slip into the negative on your account.



Click Here To Open An Account At Forexyard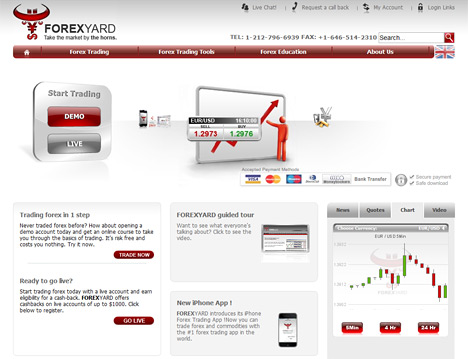 Filed under: Company Reviews | Online Forex Trading