Trading Forex: Is it Easy or Hard?



Is trading forex as easy as some people make it out to be?

No.

Becoming a successful forex trader takes patience, knowledge and unending persistence.

Are there successful forex traders out there? Absolutely.

Are there people who make their livings trading forex? Without question.

Is it easy to make money trading forex? Absolutely not.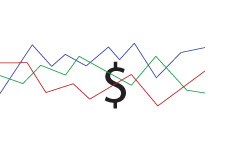 Maybe you have a friend who has told you how easy it is to make money in the forex markets. Maybe you have landed on a site where somebody is pitching a "can't lose" system for trading the forex markets. Or maybe a forex broker is trying to get you to open an account by telling you about how many successful forex traders there are in the world, and how easy it is to make money.

Sure, you can trade forex at home in your pajamas, but that doesn't make it easy.

Sure, you can use untold amounts of leverage to trade in the forex markets, but that doesn't make it easy.

Sure, there are people out there who make a killing in the forex markets, but that doesn't mean that you will.

Just like anything else, making money in forex trading takes work. Hard work.

Is it easy? No. Is it hard? Yes.

Can you make untold amounts of money through forex trading? Yes. Will it just fall into your lap? Absolutely not.


Back to Answers