US Markets Close For Which Holidays?



Which holidays result in US markets closing for the day?

If any of these holidays fall on a weekday, then the markets will be closed:

New Year's Day (January 1)
Martin Luther King, Jr. Day (mid January)
Washington's Birthday/Presidents' Day (February)
Good Friday (April)
Memorial Day (late May)
Independence Day (July 4)
Labor Day (early September)
Thanksgiving Day (late November)
Christmas Day (December 25)

Certain holidays, such as Christmas and Independence Day, will be observed another day if they fall on a weekend.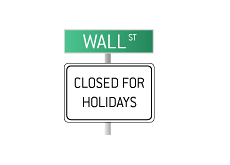 For instance, in 2010, the markets will close for Christmas on December 24th, because Christmas Day will fall on a Saturday.

The markets are open (provided that it is not the weekend) on days such as New Year's Eve, Christmas Eve and the day after Thanksgiving, even though many Americans have these days off. Christmas Eve and the day after Thanksgiving are both half days (markets close at 1 pm EST).

"Boxing Day" (December 26th) is not observed in the United States, which means that December 26th is a full day for the markets in the US.

If New Year's Day falls on a Saturday or Sunday, then the markets WILL NOT be closed the next business day.

Back to Answers