When Will I Be Able to Buy the Apple iPad in Canada?



Thousands of people are currently lined up in front of US-based Apple stores in anticipation of the launch of the iPad on April 3rd.

If you are living in Canada, then you are likely asking yourself the question - when will the iPad go on sale in Canada?

Canadians have had to wait a long while for major new devices in the past. The Amazon Kindle was only made available in the second half of 2009, while the Apple iPhone was released in Canada well after the device was made available to Americans.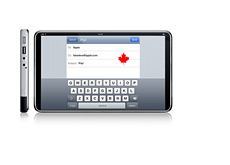 The good news? According to Apple, the iPad will go on sale in Canada in "late April".

According to this article in the Vancouver Sun, international launch dates and pricing structures will be announced "in April".

Many technology blogs have indicated that the iPad will be released to select international markets (including Canada, Australia, Germany and the United Kingdom) on April 24th. These blogs point to an internal memo circulated to Apple stores based in Canada, advising that all employees should be available to work on April 24th. Apparently similar memos have been circulated when other popular Apple devices have been slated for release (including the iPhone).

If you are an Apple-loving Canadian resident (like me) and are getting bummed out because you can't purchase an iPad yet - don't worry. It sounds like we'll only have to wait until the end of April before the device is made available to us.


Back to Answers