Definition of Unsecured Loan





What is an "unsecured loan"? What is the definition of the term "unsecured loan"?

An "unsecured loan" is a loan in which there is no collateral.

For instance - a mortgage is a "secured loan", as you are pledging your house as collateral. If you default on your payments, your lender will likely repossess your home and sell it to recoup their money.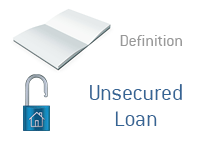 With an "unsecured loan", there is no collateral.

For instance - a credit card is an "unsecured loan". If you default on your payments, the credit card company will be forced to use a collection agency or the court system in order to retrieve their money.

Other examples of unsecured loans include loans from friends or department store cards.

--

Unsecured loans carry a much higher level of risk for lenders, due to the fact that there is no collateral. For this reason, unsecured loans have much higher interest rates for borrowers.


Davemanuel.com Articles That Mention Unsecured Loan:

None




Click Here For Hundreds More Definitions