November 23rd, 2012 6:38 pm EST - By Dave Manuel

President Obama Tops List With Over 23 Million Followers




Who are the most popular US politicians based on number of Twitter followers?

It should be fairly obvious as to who is at the top of the list. President Barack Obama, who currently has 23,733,203 Twitter followers, has successfully used social media during his two Presidential campaigns. For that reason, it shouldn't surprise you to find out that Obama is not only the most followed US politician on Twitter, but one of the most followed people in the world as well.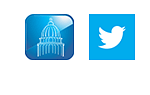 Next up on the list? The man that President Obama defeated in the 2008 Presidential election, Senator John McCain. As of this moment, McCain has over 1.7 million Twitter followers.

Let's take a look at the most followed US politicians on Twitter:

Barack Obama (@BarackObama) - 23,733,203 Followers

John McCain (@SenJohnMcCain) - 1,788,461 Followers

Speaker John Boehner (@SpeakerBoehner) - 388,348 Followers

Vice President Biden (@JoeBiden) - 354,950 Followers

Paul Ryan (@reppaulryan) - 323,902 Followers

Nancy Pelosi (@NancyPelosi) - 264,048 Followers

Ron Paul (@RepRonPaul) - 195,492 Followers

Michele Bachmann (@MicheleBachmann) - 163,011 Followers

Jim DeMint (@JimDeMint) - 145,248 Followers

Eric Cantor (@gopleader) - 113,107 Followers

Allen West (@AllenWest) - 108,519 Followers

Claire McCaskill (@clairecmc) - 82,509 Followers

Senator Harry Reid (@SenatorReid) - 72,802 Followers

Senator Rand Paul (@SenRandPaul) - 66,687 Followers

Darrell Issa (@DarrellIssa) - 66,102 Followers

ChuckGrassley (@ChuckGrassley) - 59,478 Followers

Sen. Tom Coburn M.D. (@TomCoburn) - 53,386 Followers

Kirsten Gillibrand (@SenGillibrand) - 52,968 Followers

John Kerry (@JohnKerry) - 50,052 Followers

Chuck Schumer (@chuckschumer) - 40,937 Followers

Mike Pence (@RepMikePence) - 38,089 Followers

Thaddeus McCotter (@ThadMcCotter) - 37,400 Followers

Jared Polis (@jaredpolis) - 34,911 Followers

Orrin Hatch (@OrrinHatch) - 34,875 Followers

Rep. Keith Ellison (@keithellison) - 34,350 Followers

--

Note: Mitt Romney, who recently lost to Barack Obama in the 2012 Presidential election, currently has over 1.7 million Twitter followers.