Robert Whittaker Favoured in Middleweight Title Fight, While Covington/Dos Anjos a Coin Flip
Click Here to Bet on UFC 225
Bet365 is the personal sportsbook of choice for Dave Manuel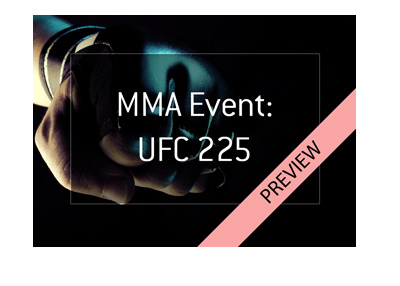 UFC 225 is set to take place at the United Center in Chicago, Illinois on Saturday, June 9th. The event will feature two title fights, a Women's Featherweight contender eliminator bout and a "special attraction" featuring former WWE superstar CM Punk.
The main event will feature a Middleweight title fight between Robert Whittaker and Yoel Romero. Whittaker was initially supposed to fight Georges St. Pierre for the unified Middleweight title, though GSP had some health issues and eventually dropped the title. Whittaker was eliminated to the role of undisputed champion and was initially supposed to defend against Romero in Australia, though Whittaker was forced to pull out due to injury. Romero eventually ended up beating Luke Rockhold for the interim title, and here we are today.
In the other title fight, Colby Covington and Rafael Dos Anjos will be battling for the interim Welterweight title and the right to take on Tyron Woodley for the undisputed title at a later date. Covington has talked his way into a title fight, though he will be going against a very tough opponent in former Lightweight champion RDA.
This card is absolutely stacked - let's take a look at the odds for each fight, along with some commentary:
Source: Bet365
Time Stamp:
June 5th, 2018 10:00 am EST
Odds Subject to Change
Robert Whittaker, 1.42
Yoel Romero, 3.00
Yoel Romero is a dynamic and extremely talented Middleweight, though we can't forget that Whittaker already holds a win over the Cuban fighter. Romero certainly has the toolset to beat Whittaker, though Whittaker is tough and well-rounded and should be able to withstand any early onslaughts from Romero. Whittaker blew out his knee in his first fight against Romero and still managed to pull out the victory, so keep that in mind.
Colby Covington, 1.91
Rafael Dos Anjos, 1.91
Covington has talked his way into an interim title shot against Dos Anjos. Covington is coming off of the biggest win of his career, a three round unanimous decision victory against Demian Maia. Covington will have his hands full with RDA, who has looked extremely good since making the move to Welterweight. Dos Anjos also has plenty of big fight experience, as he is the former Lightweight title holder. Covington is a very accomplished wrestler, though Dos Anjos is good everywhere and has a significant experience advantage. This is probably the toughest fight on the card to call.
Holly Holm, 1.43
Megan Anderson, 2.95
Megan Anderson will finally be making her long-awaited debut in the UFC against Holly Holm on Saturday night. The winner of this fight will likely take on "Cyborg" for the title - Anderson was brought in to eventually take on Justino, while Holm narrowly lost to "Cyborg" last year. Again, the difference in this fight is experience - Holm has some very big fights under her belt (Rousey, Tate, Cyborg), while Anderson will likely have the jitters from making her first appearance in the UFC. Look for Holm's high level striking to be the difference in this one.
Andrei Arlovski, 3.35
Tai Tuivasa, 1.36
Tuivasa is the "Next Big Thing" in the Heavyweight division while Arlovski is the wily veteran who has seen and done it all. Tuivasa has dynamite in his fists while Arlovski has a suspect chin. You do the math - one big punch from Tuivasa and this fight will be over.
CM Punk, 2.90
Mike Jackson, 1.43
The CM Punk experiment continues in the UFC. If Punk doesn't show significant improvement in this fight, there is practically zero chance we see him fight again. Having said that, if he does beat Jackson, who really cares? After all, Jackson has a professional record of 0-1, so Punk winning wouldn't really mean much. It's a shame that this fight is on the PPV instead of Overeem/Blaydes or Benavidez/Pettis, though this is the state of the UFC - all about the money.
Alistair Overeem, 2.55
Curtis Blaydes, 1.57
Blaydes is a fantastic wrestler and will look to take Overeem down immediately. Overeem is one of the top strikers in the world, though he will likely have a big problem dealing with the wrestling of Blaydes. Overeem will likely need to finish this fight early if he wants to win, as Blaydes is going to look to grind him down over the course of the fight.

Let's take a look at the rest of the fights on this card:
Mirsad Bektic, 1.43
Ricardo Lamas, 2.90
Chris De La Rocha, 2.55
Rashad Coulter, 1.57
Joseph Benavidez, 1.40
Sergio Pettis, 3.10
Carla Esparza, 5.25
Claudia Gadelha, 1.18
Anthony Smith, 1.30
Rashad Evans, 3.70
Charles Oliveira, 1.63
Clay Guida, 2.40
Dan Ige, 1.74
Mike Santiago, 2.15
Filed under:
General Knowledge