Lionel Messi, Junior Neymar Lead Race For Top Goalscorer
Click Here To Bet on the Top Goalscorer
Bet365 is the personal sportsbook of choice for Dave Manuel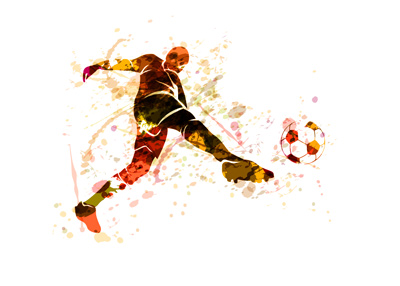 When trying to figure out who to bet on to win the top goalscorer award at the 2018 World Cup, you need to balance the goal scoring potential of the player with the strength of their team.
After all, if a top player plays for a team that is not expected to go far in the tournament, they are likely not going to finish at the top of the pack, as they will simply not play enough games. A perfect example of this is Mohamed Salah - a sublime talent, though Salah plays for Egypt and his club likely will not be going far in the tournament, which makes him a long shot to win the goal scoring title.
On the other hand, somebody like Junior Neymar is at the top of the odds, as he is one of the top goal scorers in the tournament. In addition, Neymar plays for Brazil, which is obviously expected to do well in the tournament.
Cristiano Ronaldo, on the other hand, plays for Portugal, which is expected to get to the quarter-finals before losing. Can Ronaldo score enough goals in the Group Stage to give himself a shot of winning the goal scoring crown? It's a possibility.
The player with the best odds to win the goal scoring crown is Lionel Messi, the Argentinian player who is considered one of the top two players in the world. As of this moment, Messi is listed at 10.00 to win the goal scoring title.
Let's take a look at the 20 players with the current best odds to win the goal scoring title at the World Cup, courtesy of Bet365:
Source: Bet365
Time Stamp:
June 7th, 2018 9:10 am EST
Odds Subject to Change
Lionel Messi, 10.00
Junior Neymar, 11.00
Antoine Griezmann, 13.00
Timo Werner, 15.00
Cristiano Ronaldo, 15.00
Fernando Gabriel Jesus, 17.00
Harry Kane, 17.00
Romelu Lukaku, 17.00
Edinson Cavani, 26.00
Sergio Aguero, 26.00
Luis Suarez, 26.00
Diego Costa, 26.00
Thomas Muller, 34.00
Alarcon Isco, 34.00
Kylian Mbappe-Lottin, 34.00
Robert Lewandowski, 34.00
Mohamed Salah, 41.00
Eden Hazard, 41.00

In figuring out who you think will be the top goal scorer in the tournament, it can be helpful to find out which teams are expected to go the furthest. As of this moment, Brazil, Germany, Spain, France, Argentina and Belgium are the favourites to win.
Do you see any value on this list? Which players do you think are going to surprise?
Last year's goal scoring title was won by James Rodriguez of Columbia, who finished the tournament with 6 goals in 5 matches.
Filed under:
General Knowledge