Australia vs France World Cup Betting Preview and Odds
Click Here To Bet on Australia vs France
Bet365 is the personal sportsbook of choice for Dave Manuel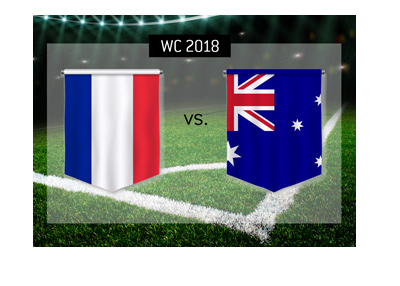 One of the biggest mismatches of the first week of play in the World Cup will see the immensely talented France side take on Australia.
In the minds of many, France is one of the top favourites to win the entire tournament, alongside the likes of Germany and France.
France is playing in Group C, which is a group that contains the likes of Australia, Peru and Denmark. This is a very weak group (aside from France) that contains the three teams that qualified the latest for the World Cup - Denmark (UEFA Second Round winner), Australia (CONCACAF v AFC playoff winner) and Peru (OFC v CONMEBOL play-off winner). In fact, if France manages anything less than three easy wins in this group, they probably did something wrong.
This leaves, however, an absolute dogfight for the second spot in the group, and any of the three teams other than France could lay claim to it. Australia obviously wants to get off to a good start by taking a point (or even more) away from France, though they will have their work cut out for them.
This will be Australia's 5th appearance in the World Cup, with their best finish coming in 2006 when they made the Round of 16.
France, on the other hand, has made the World Cup tournament for the 15th time. France won the World Cup back in 1998.
France has a remarkably talent squad that includes the likes of Paul Pogba, Antoine Griezmann, Kylian Mbappe and Ousmane Dembele, just to name a few. What Australia lacks in talent they will try to make it for with heart, though that can only go so far against a side like France.
As you can see from the odds listed below, Australia is likely in for it on Saturday:
Source: Bet365
Time Stamp:
June 12th, 2018 1:05 pm EST
Odds Subject to Change
France, 1.25
Draw, 6.75
Australia, 13.00
You need to be careful with these odds. Sure, France is the obvious favourite to win, though this will be the first game of the tournament for them and anything can happen before the kinks are worked out. While France should clearly win, there is not too much value in backing them at 1.25, in my opinion.
Draw No Bet
France, 1.06
Australia, 10.00
As you can see, the bookmakers give Australia essentially no chance of beating France straight up.
Over/Under
Over 2.5 Goals, 1.8
Under 2.5 Goals, 2.0
Does France win 1-0, 2-0 or 3-0? These are the three likeliest outcomes of Saturday's match, and most bookmakers anticipate that Australia will be unable to penetrate the French defences.

France is likely to make mincemeat of all three of its Group C opponents, starting with Australia on June 15th.
Filed under:
General Knowledge