Bet on Argentina v Iceland World Cup Match
Click Here To Bet on Iceland v Argentina
Bet365 is the personal sportsbook of choice for Dave Manuel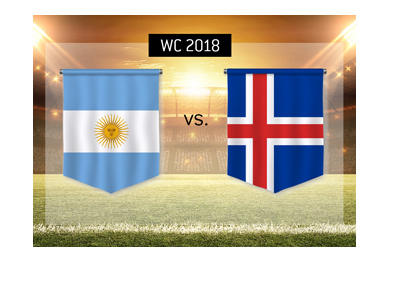 Saturday, June 16th is a day of mismatches (at least on paper) at the World Cup - France is playing Australia, while Argentina will be taking on Iceland.
Sure, Iceland has the capability to surprise (as we witnessed in the Euros two years ago), though Argentina has a club that includes one of the world's best players - Lionel Messi. As if that weren't enough, Iceland will also need to contend with the likes of Gonzalo Higuain, Sergio Aguero and Paulo Dybala. Argentina will be fielding an almost absurd amount of talent and the Icelandic side will certainly have their work cut out for them if they want to keep this contest close.
Argentina qualified for the World Cup on October 10th, 2017 after finishing in third place in the CONMEBOL round robin. This will be Argentina's 17th trip to the World Cup - they are no strangers to doing well, as they won the tournament in both 1978 and 1986.
Iceland qualified for the World Cup on October 9th, 2017 after winning UEFA Group I. This will be the very first time that Iceland has ever made it to the World Cup. Iceland did very well in the qualifying round, finishing with a record of 7-1-2 to win the group outright.
Iceland does have some players who play in the English Premier League and other prominent leagues, though nothing on par with the talent that Argentina will be rolling out.

Here are the betting odds for Saturday's match between Argentina and Iceland, courtesy of Bet365:
Source: Bet365
Time Stamp:
June 13th, 2018 12:18 pm EST
Odds Subject to Change
Argentina, 1.33
Draw, 4.5
Iceland, 11.0
Correct Score (Top Five)
Argentina 2-0, 5.5
Argentina 1-0, 5
Argentina 3-0, 8.0
Argentina 2-1, 8.5
Draw 1-1, 9.0
Draw No Bet
Argentina, 1.07
Iceland, 9.0
-
Every World Cup you get at least one favourite that ends up being an unmitigated disaster. Will it be Argentina this time around?
If you are looking for a real long shot upset possibility, Argentina v Iceland might be your bet. After all, Iceland will likely be enjoying sky-high confidence following their strong showing in the Euros in 2016 and their strong play in Group I of the UEFA World Cup qualifying stage. Argentina, as well, didn't look particularly strong during their qualifying games - could they be ripe for an upset?
This is one of the more intriguing lopsided matches (at least in terms of the odds) in the Group Stage of World Cup play.
Filed under:
General Knowledge