Peru v Denmark Betting Odds and Preview 2018.06.16
Click Here To Bet on Peru v Denmark
Bet365 is the personal sportsbook of choice for Dave Manuel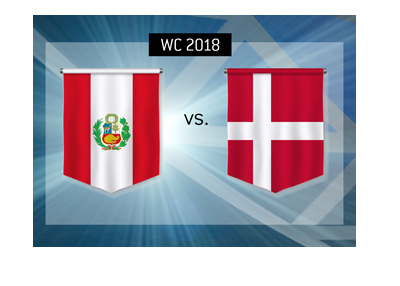 Two of the very last teams to qualify for the 2018 World Cup, Peru and Denmark, will be squaring off in Group Stage action on Saturday, June 16th.
Peru and Denmark are in Group C, which also includes France and Australia. With Australia established as one of the weaker teams in the tournament, Peru and Denmark both have their sights set on the second place spot in the group (France should win the group easily). This makes the game between Peru and Denmark extremely important, as the winner could practically cement themselves a spot in the next round of the tournament.
Denmark qualified for the World Cup by winning their UEFA second round playoff game, while Peru qualified by winning the OFC v CONMEBOL playoff.
This will be the 5th appearance in the World Cup for both teams, with Denmark last appearing in 2010 and Peru last appearing in 1982. Denmark made it to the quarter-finals in 1998, while Peru also made it to the quarter-finals in 1970.
This should be an extremely close match. Denmark likely has the best player of the two teams in Kasper Dolberg, with the 20 year-old Ajax striker looking to cause some damage against Peru. Denmark has players who play for the likes of Chelsea, Tottenham and Borussia Dortmund, while Peru has a couple of players in the major European leagues.
This should be a very close match - let's take a look at the betting odds, courtesy of Bet365:
Source: Bet365
Time Stamp:
June 14th, 2018 9:22 pm EST
Odds Subject to Change
Denmark, 2.4
Draw, 3.25
Peru, 3.3
Correct Score (Top 3)
Draw 1-1, 6.5
Denmark 1-0, 7.5
Draw 0-0, 8.5

As you can see, the match is expected to be quite close, though Denmark is seen as having the talent advantage.
The importance of this game can't be overstated - assuming that Australia struggles, the winner of this match (if there is one) will practically guarantee themselves a spot in the next round.
If the game ends in a draw, however, Group C will likely be very close and messy, as a draw would likely give Australia a bit of life.
This is one of the more intriguing Saturday matches.
Filed under:
General Knowledge