Croatia Popular Bet With Punters as Argentina Looks For First Win
Click Here To Bet on Argentina vs Croatia
Bet365 is the personal sportsbook of choice for Dave Manuel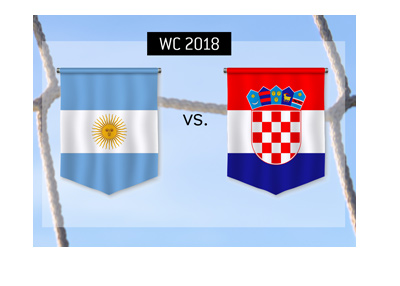 The pressure will be on Argentina when they step onto the pitch in Russia later today to take on Croatia.
After an uninspiring 1-1 draw against Iceland in their first match of the World Cup tournament, Lionel Messi and company will turn their sights to Croatia, who looked good in a 2-0 victory against Nigeria in their first match.
For Argentina, the stakes are high - if they lose or even draw on Thursday, they will face the possibility of not advancing to the next round of play, despite being one of the favourites to win the tournament.
For Croatia, their side could clinch a spot in the next round with a win against Argentina on Thursday. Even if Croatia loses on Thursday, they would qualify for the next round with a win over Iceland.
As you can see, all of the pressure is on Argentina on Thursday.
In the first game of the tournament, Lionel Messi missed a penalty that would have given his side the victory. Messi was very harsh on himself after the game and it will be interesting to see if he can bounce back.
It is interesting to note that a straight up wager on Croatia to win is proving to be one of the most popular wagers with punters this morning.
Let's take a look at the betting odds courtesy of Bet365:
Source: Bet365
Time Stamp:
June 21st, 2018 8:50 am EST
Odds Subject to Change
Argentina, 2.14
Draw, 3.3
Croatia, 3.9
Total Goals Over/Under 2.5
Over 2.5 Goals, 2.25
Under 2.5 Goals, 1.61
-
While Argentina has the talent advantage thanks to names such as Lionel Messi and Sergio Aguero, Croatia is certainly no slouch, as they have a number of players that are top players in top European leagues.
The thing is - even the best players in the world can suffer from nerves, especially on the biggest stage in the world. Argentina will likely be tight and trying to press too much on Thursday, while Croatia can play safe with the knowledge that they will likely go through to the next round, regardless of the outcome of Thursday's game.
This is certainly one of the more intriguing Group Stage matches and should be a pleasure to watch.
Filed under:
General Knowledge