Bet on Germany vs Sweden World Cup Match
Click Here To Bet on Germany vs Sweden
Bet365 is the personal sportsbook of choice for Dave Manuel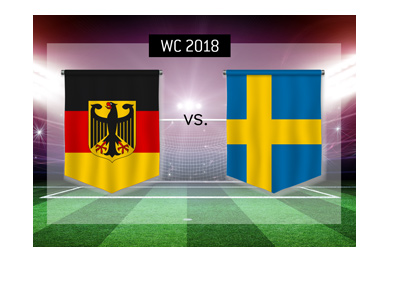 A suddenly important game between Sweden and Germany is set to take place at the World Cup on Saturday.
After suffering a stunning defeat against Mexico in their first game of the tournament, Germany suddenly find themselves in a must-win situation against Sweden.
Sweden, on the other hand, can guarantee themselves a spot in the next round with a win over Germany.
It will be interesting to see what Germany is made of when they kick off against Sweden on Saturday. Germany SHOULD win this game, though they will likely be very tight after their loss against Mexico.
Sweden, on the other hand, could deliver the stake to the hearts of German fans across the world, so there is no doubt that they will be looking to pounce on Germany early to take advantage of any German jitters.
Here are the Group F standings as of this moment:
Sweden, 3 points
Mexico, 3 points
Germany, 0 points
South Korea, 0 points
As you can see, Germany is in very bad shape if they don't get a win on Saturday. Assuming Mexico beats South Korea, Germany would be in a position where they wouldn't control their own destiny if they don't beat Sweden on Saturday.

Let's take a look at the odds for this game courtesy of Bet365:
Source: Bet365
Time Stamp:
June 22nd, 2018 7:02 pm EST
Odds Subject to Change
Germany, 1.5
Draw, 4.5
Sweden, 7.5
Correct Score (Top 3)
Germany 1-0, 7.0
Germany 2-0, 7.5
Draw 1-1, 8.5
-
Can Germany bounce back on Saturday or will Sweden deliver the German side a death blow?
Filed under:
General Knowledge