France Has Slight Edge To Beat Argentina in Round of 16
Click Here To Bet on France vs Argentina
Bet365 is the personal sportsbook of choice for Dave Manuel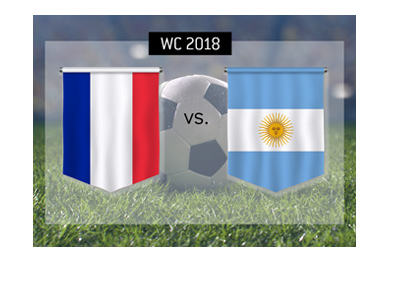 A match-up that probably shouldn't be happening in the Round of 16 will be taking place this Saturday as France will battle with Argentina.
Heading into the World Cup, France and Argentina were two of the favourites to win the tournament. France did their thing by finishing at the top of their group, though Argentina needed some last minute heroics against Nigeria to make it through to the Round of 16. All of that is irrelevant, however, as Lionel Messi and company advanced and will prove to be a very tough match for the French side.
This match will feature some of the top players in the world in the form of Lionel Messi, Antoine Griezmann, Kylian Mbappe and Sergio Aguero. There will be a tremendous amount of skill on display, with each team hoping that they can carry their nations to a spot in the quarter-finals.
Let's take a look at the odds for this match courtesy of Bet365:
Source: Bet365
Time Stamp:
June 28th, 2018 8:57 am EST
Odds Subject to Change
France, 2.37
Draw, 3.1
Argentina, 3.6
As you can see, France has the slight edge to win though neither team is even money or better.
Let's take a look at the odds to qualify:
France, 1.66
Argentina, 2.1
Finally, the 5 likeliest outcomes of Saturday's match, according to the oddsmakers:
Draw 1-1, 6.0
France 1-0, 6.5
Draw 0-0, 6.5
Argentina 1-0, 8.5
France 2-1, 11.00

The French side has not yet had to deal with any adversity so far in this tournament, as they found themselves in one of the easier Group Stage groups.
Argentina, on the other hand, has been on the defensive for the entirety of the tournament so far. Good news for their side, however, is that Lionel Messi found his form in the game against Nigeria, scoring one of the goals of the tournament.
It's almost hard to believe that one of these two teams will be out of the World Cup after Saturday's match, though this is the situation that we find ourselves in. All we can do is sit back and enjoy the match.
Filed under:
General Knowledge