Can Croatia Shock the World After Three Nail-Biters?
Click Here To Bet on France vs Croatia
Bet365 is the personal sportsbook of choice for Dave Manuel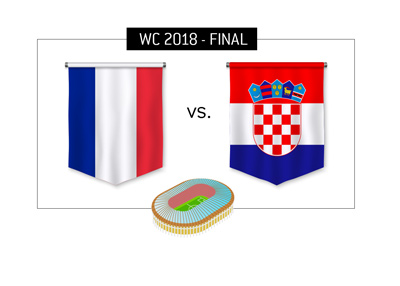 The unlikeliest of World Cup finals is upon us, as Croatia will be battling France for football supremacy.
France has had a relatively easy time of things so far, as they have never really been in any danger. The game against Argentina in the Round of 16 looked close (France won 4-3), though Argentina scored a late goal to make things look closer than they actually were. France then beat Uruguay 2-0 in the quarter-finals and Belgium 1-0 in the semis.
Croatia, on the other hand, has played three absolute nail-biters in a row. Round of 16 and quarter-final games against Denmark and Russia both went to penalty kicks, with Croatia eking out wins in both cases. In the semi-finals, Croatia came from behind to defeat England 2-1 in extra time.
Croatia will likely be quite tired when they hit the pitch this weekend against France, while France hasn't had to put in any extra time whatsoever during their World Cup run. Will this make a difference? We'll see.
France has been led by breakout star Kylian Mbappe, who has quickly established himself as one of the very best players in the world. France also has the talented Antoine Griezmann, which means that Croatia will need to do well to keep France out of their goal.
The Croatian side is led by Mario Mandzukic up front and the talented Luka Modric at midfield. There is no doubt that Croatia has a talented side, though can they keep up with the deep French team that is also well-rested?
-
France is the clear favourite heading into this contest - let's take a look at the betting odds as of this moment, courtesy of Bet365:
Source: Bet365
Time Stamp:
July 12th, 2018 5:48 pm EST
Odds Subject to Change
France, 1.9
Draw, 3.3
Croatia, 5.0
To Win
France, 1.44
Croatia, 2.75
Correct Score (Top Five)
France 1-0, 5.5
Draw 0-0, 6.0
Draw 1-1, 7.0
France 2-0, 8.0
Croatia 1-0, 9.5

This is a fascinating contest - France has never really been pushed and clearly have the more talented side, though Croatia will be playing with absolutely nothing to lose and a feeling of destiny.
Can Croatia shock the world once again, or will the favourites from France take this down?
Filed under:
General Knowledge