Overview of Convertkit.com
Create Your Account With ConvertKit.com Today!
Professional bloggers realize the value of genuine interactions with their subscribers, but many fall short of their ideal. Imagine that you're the author of a gourmet cooking blog with two thousand subscribers. Your subscribers share an interest in your content in general, but they are each unique individuals. One is a recent (and broke) college graduate, one is a mom of two busy kids, one grows and sells organic vegetables, one rarely visits your blog due to a busy career or other obligations, and so on. These subscribers have different needs in terms of content, attention, products, reminders, and timing thereof. You're aware that these variations could exist, but the thought of trying to both recognize the needs and customize a marketing plan that will satisfy them is overwhelming.
Enter
ConvertKit
.
Founded in 2013 by former designer, author and blogger Nathan Barry, ConvertKit is a marketing tool designed specifically for bloggers. As its name implies, it's a virtual kit with the purpose of converting: converting readers to subscribers, subscribers to customers, past customers to future customers, and so on. It offers flexibility and features that can drastically reduce workload and increase the personal touch and therefore effectiveness of bloggers' marketing campaigns. Freeing time for bloggers to focus on content and purpose, it's a good product for both beginners with few subscribers and for professionals with over fifty thousand subscribers. Now in its fourth year, and with an ever increasing staff that includes both former and current clients, ConvertKit is positioned as a beneficial, if not essential, tool for professional bloggers.
How it Works
The most distinguishing feature of ConvertKit is that it personalizes the marketing process by allowing its clients to attach potential subscriber triggers to particular actions. It essentially allows its clients to create a unique, automated marketing journey (or purchasing funnel) for each customer.
Take the example of the gourmet cooking blog, and assume that its owner has designed marketing automations with ConvertKit. Its owner sells media such as cooking tutorials and recipe books, and also sells cooking gadgets. He is using ConvertKit to identify the interests of each customer and send educational and sales items that satisfy those particular interests. If a subscriber shows an interest in the cooking tutorials by either purchasing them or by frequently reading articles about those tutorials (the purchase or the process of reading are considered triggers), the blogger can set up ConvertKit to initiate a corresponding action where the subscriber would automatically be tagged as being "interested in cooking tutorials" or whatever the blog owner wants to name a category for people who are interested in cooking tutorial products. This subscriber is then automatically placed into the pool of subscribers who are interested in cooking tutorials, and will thenceforth receive information and advertisements that are assigned to this pool of subscribers.
Taking the process one step further, the customer can be excluded from advertisements for products that he has already purchased, but continue to receive advertisements for similar products. If some customers have purchased "Seafood Tutorial A," a ConvertKit automation can be set up so that they will no longer receive advertisements for that particular tutorial, but will receive a notice when a new seafood tutorial is available.
In addition to allowing its clients to easily personalize and customize the marketing funnel, ConvertKit has the ability to join other aspects of marketing to this process in one interface that integrates with hundreds of apps. It can even help new bloggers with no current subscribers to convert readers to subscribers with its landing page templates and opt-in forms that can be placed on any page.
Features
ConvertKit provides five main features (all of which are easily combined together and can be integrated with other platforms): opt-in forms, landing pages, book marketing, broadcasts, and personal emails. These features, while they do use templates, can be customized with the built in visual editor. The editor allows for changes in fonts, colors, and background patterns and textures. It also allows users to upload images and logos. For further customization, users may input custom CSS. Here is a description of each of the five features, including some examples based on the gourmet cooking blog scenario:
Opt-in Forms
The opt-in forms at ConvertKit can be placed anywhere on a site. These forms are how readers sign up to become subscribers. In the most basic form, the reader enters their name and email address and is then a subscriber. Users can create custom forms to go along with particular posts, and the forms can include incentives. Did you post an article about a particular product of yours at your gourmet cooking blog? You can create a form that will be visible on that page, perhaps one that will give away a coupon for that product to readers who subscribe via that form. If you want to offer multiple incentives, just create more forms.
Landing Pages
A landing page is a type of form and is grouped into that category at ConvertKit. ConvertKit offers three landing page templates, and allows users to quickly create a custom page. These can be hosted on Wordpress sites by using ConvertKit's WordPress plugin, or hosted by ConvertKit. It's nice to be able to create a landing page like this quickly if you do a guest podcast and want to offer a gift to listeners, if you want to give something away to current subscribers, or if you're hosting a webinar and need a place for participants to register.
Book Marketing
Many professional bloggers are also authors, and ConvertKit was built with this in mind. The book marketing feature will automate the emails that are send out to subscribers. You can automate the process so that this week, a reader who subscribed to your list two weeks ago (to receive a free cookbook chapter about seasoning seafood) will automatically receive an educational email and a reminder about the wonderful cookbook that you are selling. Instead, you could send the first page of another chapter, or something else, or nothing. If they purchase the book, you can set it up so that the reminders to purchase the book will no longer appear on the emails that they receive from you, but a link to a free chapter of another book of yours will. You can also set up an educational email course with this feature.
Broadcasts
Broadcast emails can be sent out in addition to email courses (such as can be done with the book marketing feature). These are sent out as soon as you are ready to sell a new product, or immediately after you write a blog post, or if you have another important announcement (such as if your cookbook just hit the bestseller list). Broadcasts can be sent out to your whole pool of subscribers, or only to certain groups (called segments by ConvertKit). You could send them out only to subscribers of particular forms or courses. You can also exclude certain groups of purchasers. The segments that you use for broadcasts can be saved and used again in the future.
Personal Emails
Rates of open and click through are much higher for personal emails than for those that look like mass emails. ConvertKit allows you to personalize your emails by using a template tag so that you can use a custom salutation and your subscriber's first name. The personal emails feature is also designed to make emails look as though they are sent directly from you.
Account Creation
To create an account, you must pay up front for one month of service (this amount can be refunded within 30 days if you aren't satisfied). As explained by ConvertKit staff in their webinars, the reason they don't offer a free trial period is because a paid trial period works better to motivate clients to learn about and begin using their product. Free offers often gather virtual dust and stagnate as days turn into weeks and months. After entering your email, password, and payment information, you are prompted to enter your address and a contact email. These are necessary for ConvertKit to send emails on your behalf, to comply with anti-spam regulations. Request account approval (ConvertKit explains how) and you are ready to begin.
New Bloggers
If you are completely new to the process of acquiring subscribers, creating forms and incentives, and creating a marketing funnel, ConvertKit guides you through the process with a checklist on the right side of the screen that appears upon creation of your account. As you can see in the screenshot below, the process is listed, beginning with "Request account approval," then "Create a form," and ending with "Integrate your favorite tools." As you can see in the top right corner of the screenshot, ConvertKit will send a free gift when you complete the process (I won't reveal what it is, but it's something most bloggers will appreciate).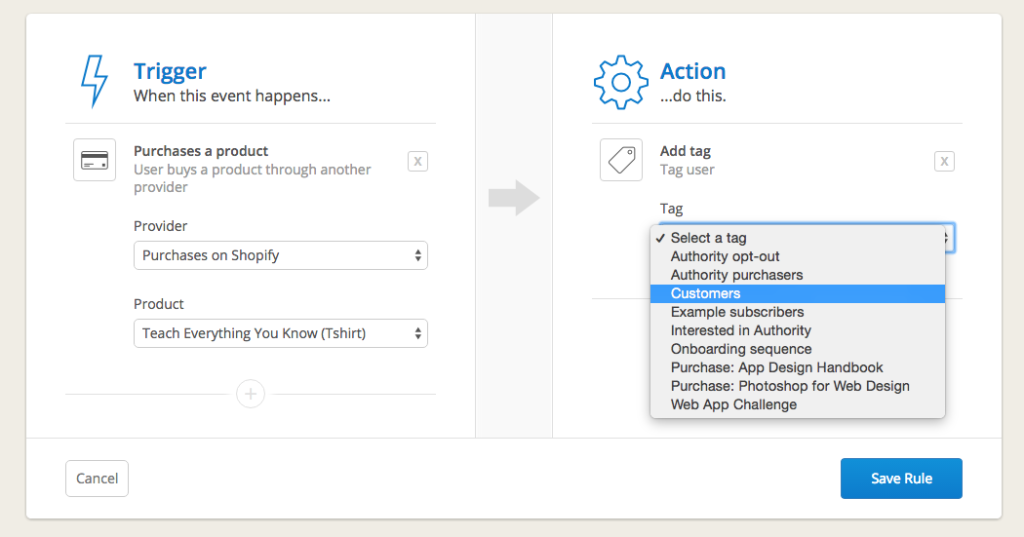 Once you begin by choosing to create a form (either an opt-in form or a landing page), you will be given a choice of templates, as shown in the screenshot below: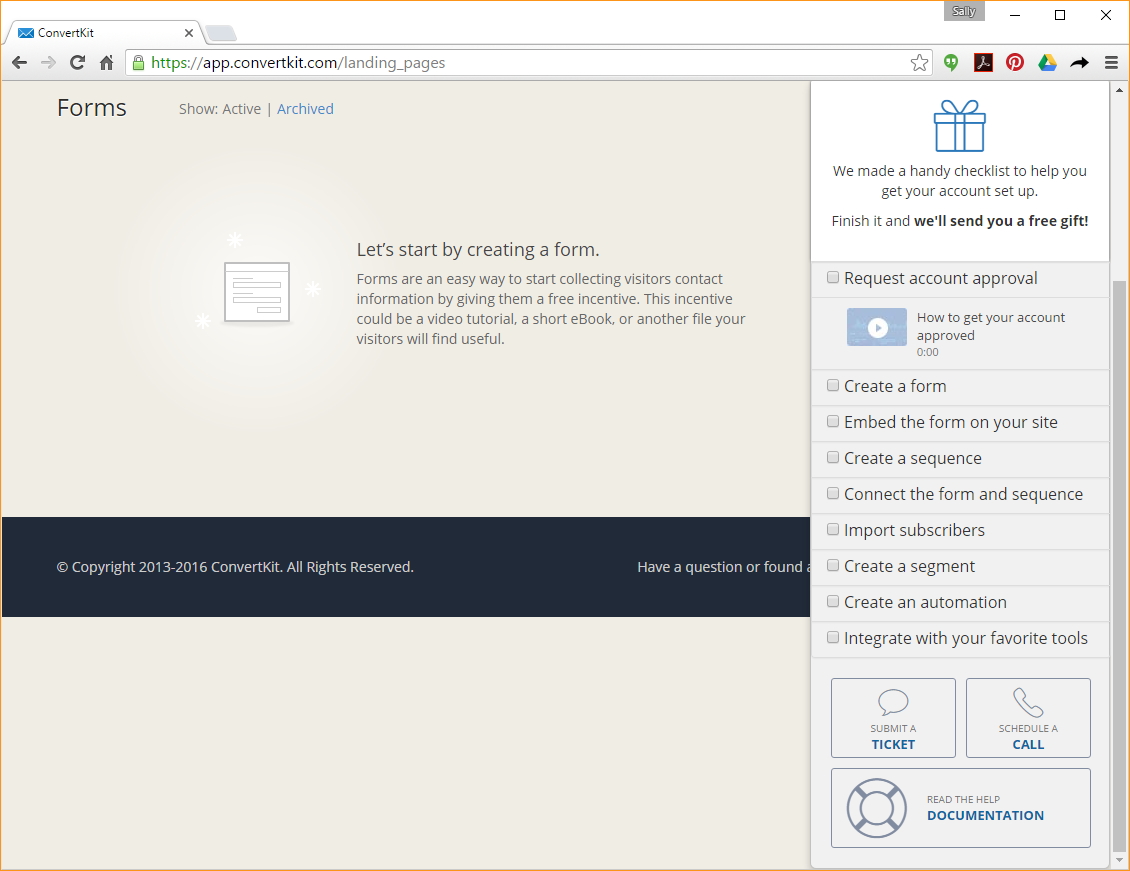 As you can see on the screenshot, you can easily bypass the forms feature and access the other features by clicking on a tab in the blue menu that spans the screen. The menu is simple, merely including tabs for forms, sequences, broadcasts, subscribers and automations, and an account tab.
Seasoned bloggers
If you're migrating over to ConvertKit with 15,000 or more subscribers, their staff will do the migration for you if you prefer. ConvertKit appears to be committed to making marketing as easy as possible for professional bloggers, and appreciates the value of your time to focus on what is important, such as quality content. Even though it doesn't take very long to migrate over, the option to have ConvertKit staff do this for you is a nice perk. It will give you a little more time to create excellent content.
Pricing
ConvertKit pricing is simple. If you have under 50,000 subscribers, you pay based on the size of your contact list. If you have over 50,000 subscribers, your fee is based on the number of subscribers, but will increase if you send over 15 times the subscriber limit. For example, if you are on the 100,000 subscriber plan, you can send 1,500,000 emails per month without being bumped into the next pricing tier. Clients are automatically bumped up into the next highest tier without a discontinuation of service.
All plans allow you to create an unlimited number of forms, landing pages, emails, and automations.
In terms of actual price, the lowest rate is $29 per month for bloggers with up to 1,000 subscribers. The highest rate is for bloggers with 501,000 to 900,000 subscribers, at $3,999 per month.
Here is their pricing page
if you want to see what your rate would be.
How ConvertKit counts subscribers
It's important to understand that subscribers in ConvertKit (as a pool-based marketing service) are counted differently than in list-based marketing services. List-based services count each list member as a subscriber. For example, if one individual's account is on two of your lists, that account is counted as two subscribers. With ConvertKit, one account is counted as one account, no matter how many pools that account belongs to.
Tools and Services that Integrate with ConvertKit:
Some of the most popular integrations with ConvertKit include PayPal, Wordpress, Booklaunch, Optinmonster, SumoMe, LeadPages, ProgressAlly, Stripe, Typeform, Google Sheets, WuFoo, Eventbrite, WooCommerce, Shopify, Teachable, WishList, and GumRoad. ConvertKit integrates directly with many services, and if not,
Zapier
can be used to integrate. Zapier offers a free plan that allows five "zaps" per month, for a total of 100 tasks per month. Plans range from $20 (20 zaps/1,000 tasks) to $250 (250 zaps/50,000) per month.
To integrate one of the services that can be directly integrated with ConvertKit, go to the "Integrations" tab in the "Automations" feature. Here is a screenshot that shows some of the integration options: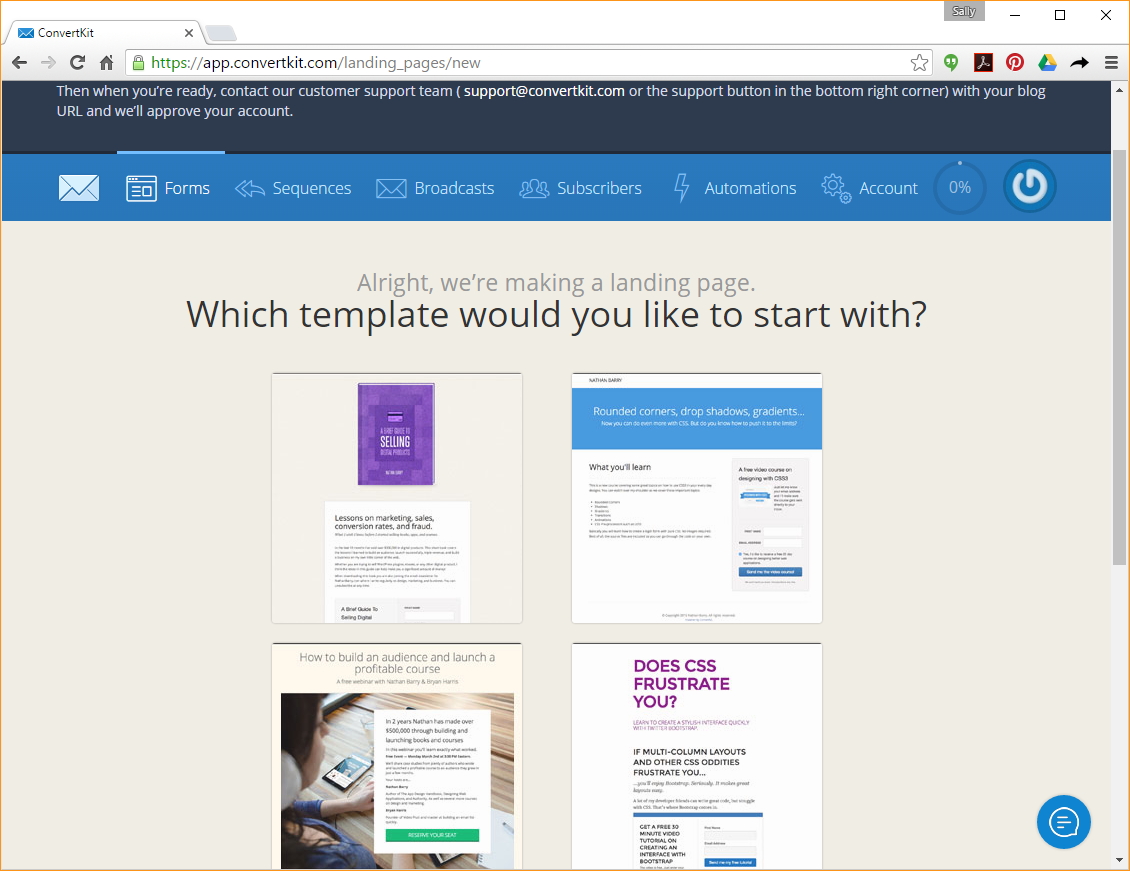 Let's say that you want to integrate Shopify, so that ContentKit can identify when a particular subscriber purchases a product from you there. All you need to do is click on the "Shopify" tab, enter your Shopify url, click on an authorization button, and click on an install button. After that, you are prompted to create an automation rule, as shown in the screenshot below (from a user who has already defined some triggers and actions).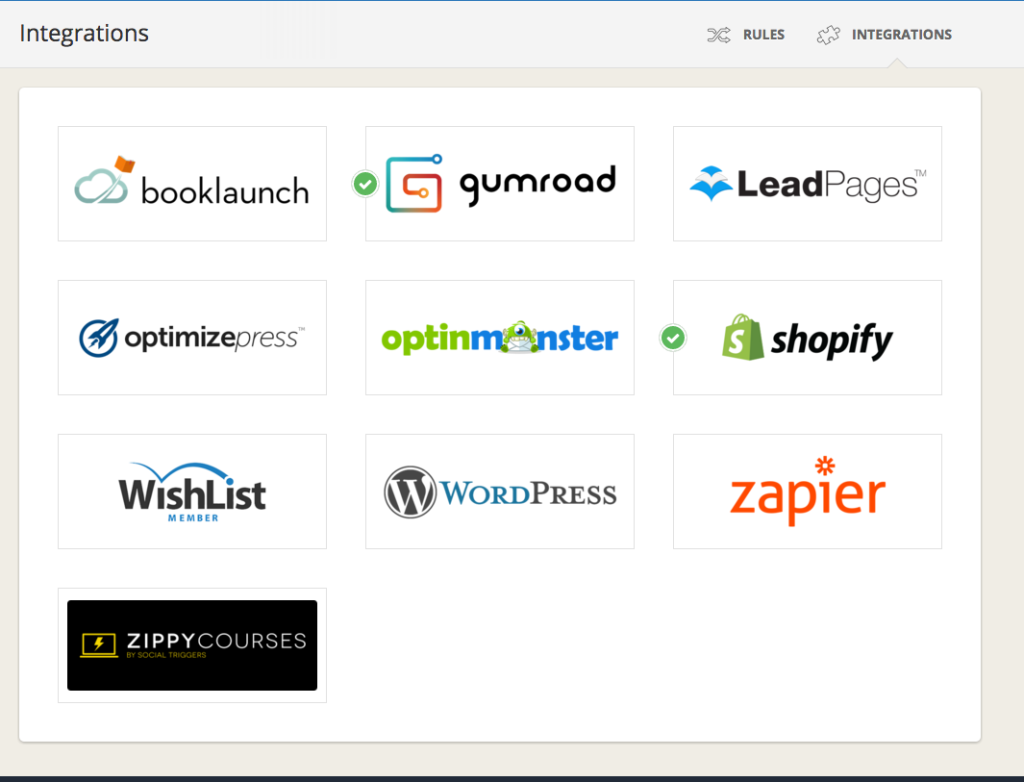 Here is a screenshot of what appears when the "tag" action is chosen: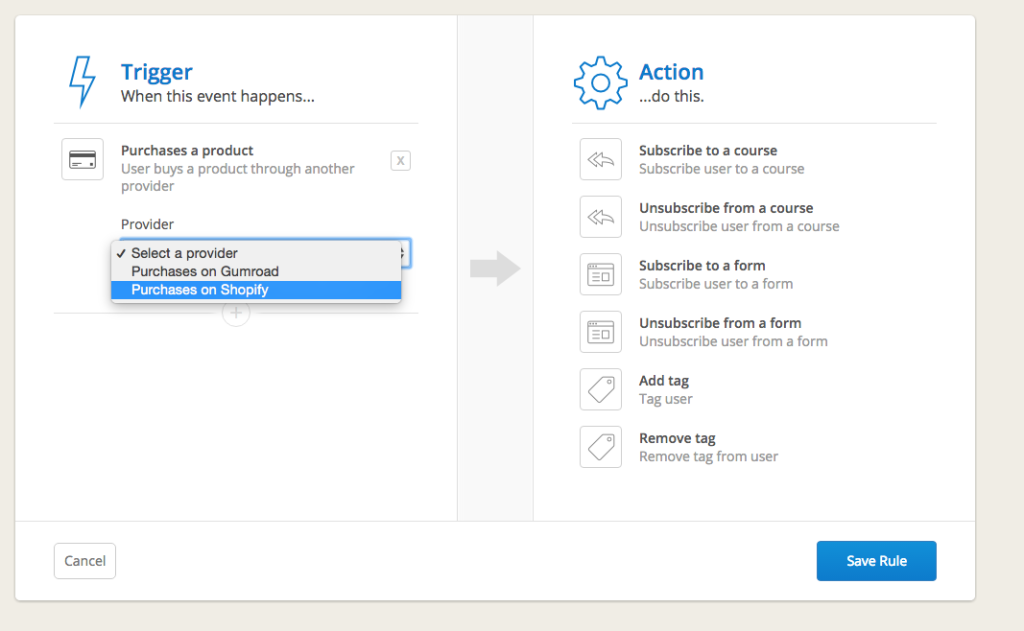 That's all it takes to set up an integration on ConvertKit. It's just as easy to use Zapier when direct integration isn't available.
Support
If you need assistance, regardless of whether or not you have over 15,000 subscribers when you join, you can expect to hear back from support within a half hour of requesting assistance (at least that's what I've found when testing customer support).
It's likely that you won't need to contact customer service, though, because the
documentation page
is quite thorough and user-friendly. It includes a search function, allowing the user to search its entire knowledge base. It also includes six main categories (Getting Started, Best Practices, Integrations, FAQ, Features, and a category for developers), each with several subcategories. For example, the integrations category includes the subcategories, Commerce, Lead Capture, Membership + Course Sites, Webinar Services, Website Platforms, Zapier, and Other.
For visually-oriented clients or potential clients, the website offers live
workshops
and also maintains a
Youtube channel
which offers lots of visual assistance and bimonthly live, interactive webinars for both clients and potential clients. One of the presenters has a knack for creating very helpful drawings. The channel includes playlists for its webinars, getting started workshops, periscopes, how-to videos, and general tips.
Users of ConvertKit who are not affiliated with the company, other than being clients, also have an impressive base of information available. For example, a work at home mom shows how she uses it for her business in a Youtube clip, "
Brilliant Ways to Use ConvertKit for Your Business
" and a self-published author and consultant shows how he uses it to create sales funnels and lead magnets
here
.
In Summary
ConvertKit appears to be an excellent choice for both beginners and longtime professional bloggers. As stated by
MerchantMaverick.com
, an organization that rates and reviews hundreds of merchant services, ConvertKit is "the kind of innovation that will save marketers hours of their day." MerchantMaverick noted that ConvertKit has many evangelists due to their appreciation of its tagging system, excellent automation, and sign-up form system. Customer support that addresses the diverse training preferences of clients is another very positive aspect of the product. It is very evident that ConvertKit's founder, Nathan Berry, has an intimate knowledge of the professional blogger business, a thorough understanding of how to serve his clients, and a passion for both inspiring them and training them to be successful marketers.
Click Here For a Demo of Convertkit.com!