Max Holloway Favored To Defeat Anthony Pettis on Saturday Night
Click Here To Bet on Anthony Pettis vs Max Holloway
*EARN A BONUS OF £200 WHEN YOU SIGN UP*
Bet365 is licensed and regulated by the British Gambling Commission (# 39563)
The main event of UFC 206 this Saturday night in Toronto will see Max Holloway take on Anthony Pettis for the interim Featherweight title, with the winner moving on to battle Jose Aldo in a title unification bout.
We will skip the circus that has been the Featherweight title picture for now and focus instead on the odds for this fight. Here are the current betting odds as of this moment:
Anthony Pettis, 2.60
Max Holloway, 1.54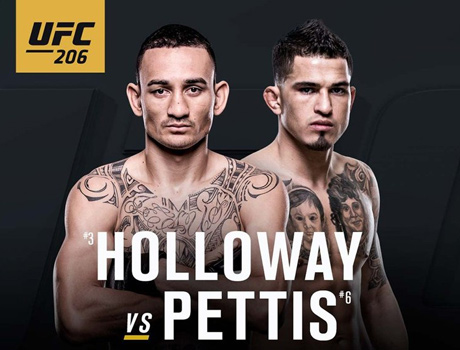 According to these odds, Pettis should win the fight approximately 38.46% of the time, while Holloway should win 64.94% of the time. A successful $100 wager on Holloway would yield a total profit of $54, while a successful $100 bet on Pettis would return a total score of $160.
Though Pettis is a former Lightweight champion, Holloway is getting the nod from oddsmakers thanks to his long nine fight winning streak, which includes wins over Ricardo Lamas and Jeremy Stephens.
As a matter of fact, Holloway's last loss came all the way back in August of 2013, when he lost to a man by the name of Conor McGregor. That fight went to a decision, with McGregor taking the unanimous nod from the judges.
Holloway is quick, elusive and possesses a dynamic package of tools that should give Pettis a very hard time.
Anthony Pettis, who currently possesses a record of 19-5, is 1-3 in his last four fights. Pettis won his last fight, which was his Featherweight debut against Charles Oliveira, via guillotine choke.
Pettis has one of the flashiest striking games in the UFC, though his opponents seem to have cracked his code. Pettis' opponents seem to be able to neutralize his striking game via pressure and by pushing him against the fence, which is the style that Eddie Alvarez employed to much impact when he defeated Pettis in early 2016.
-
This should be quite an exciting fight, as both Pettis and Holloway employ a fan friendly style that is sure to please the Toronto crowd.
The big question, though, is whether Holloway will look to grind out a win in order to contain Pettis' striking game.
In my opinion, Holloway is the more well-rounded fighter and has more ways to win this fight. If Holloway decides to grind out a win against Pettis, the title is likely his for the taking.
Verdict: Max Holloway via Unanimous Decision