McGregor vs Alvarez Betting Preview
Click Here To Bet on Conor McGregor vs Eddie Alvarez
*EARN A BONUS OF £200 WHEN YOU SIGN UP*
Bet365 is licensed and regulated by the British Gambling Commission (# 39563)
Conor McGregor, 1.67
Eddie Alvarez, 2.30
One of the biggest fights in the history of the UFC, Conor McGregor vs Eddie Alvarez for the Lightweight title, will be headlining the promotion's first trip to Madison Square Garden later this evening.
McGregor, who, despite Dana White's protestations, is the promotion's biggest star, will attempt to become the first person to ever hold two UFC titles at the same time. In his way is Eddie Alvarez, the scrappy "Underground King" who is stepping into the blinding hot spotlight for the first time in his career.
This is a momentous fight that will finally complete the UFC's long and strange journey into the state of New York. Thanks to a union that was firmly anti-Fertitta brothers, New York was the last state to legalize and regulate professional mixed martial arts fights. The UFC wanted a very big card when they first went to New York, and fans are definitely getting it in the form of three title fights.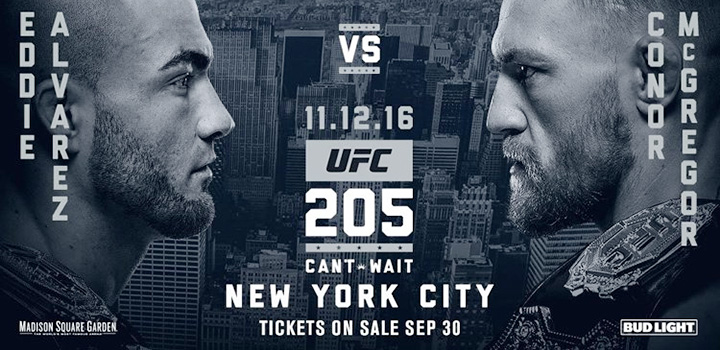 Conor McGregor will be moving up in weight to take on Eddie Alvarez, though McGregor was a very big Featherweight so there will be essentially no size difference.
McGregor will look to take Alvarez apart with his precise counterstriking and wide arsenal of punches, kicks and elbows. The likeliest route to a McGregor victory is likely the way that his fight against Aldo went, with a precision counterstrike that turns the lights out. The longer that the fight goes, the likelier Eddie Alvarez is going to win.
For Alvarez, the Lightweight champion needs to take McGregor down and grind him down with ground and pound. This is easier said than done, as McGregor has shown some decent takedown defense in his last two fights. If Alvarez can take McGregor to the ground, the Featherweight champion will likely have a long night.
-
There is no doubt that McGregor has the striking advantage in this fight, though Alvarez is likely the more well-rounded fighter. McGregor has shown a propensity to get tired if the fight goes deep into the second round, as he throws big power shots in an attempt to end the fight early. On the other hand, Eddie Alvarez seems to get into trouble at least once every fight - if he gets into trouble against McGregor, he may have a tough time recovering against the power shots of McGregor.
There is another X-factor in this fight - how will Alvarez react to being on the biggest stage? McGregor has shown time and time again that he can handle the pressure, while Alvarez has never been in a fight that comes even close to matching this one in terms of total eyeballs. Will Alvarez choke on the big stage? Will he suffer an adrenaline dump? Will he gas out early? These are all legitimate questions.
-
The majority of the money has come in on Conor McGregor so far, though this means nothing, as McGregor is extremely popular with gamblers. In reality, this fight is likely a coin toss, with the fight hinging on what gameplan Alvarez choses to employ. Will he take down McGregor in an attempt to grind out a win that will not win him any fans, or will he look to engage on the feet with "Mystic Mac"?
-
I'm picking Conor McGregor to win this fight in the second round, though I don't feel great about it.