What is Adam LaRoche's Net Worth?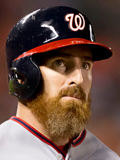 Name:
Adam LaRoche
Born: November 6th, 1979
Company: n/a
Position: First Baseman
Adam LaRoche currently has a
net worth
of an estimated:
$45,000,000
Information:
Adam LaRoche, the former first baseman for the Atlanta Braves, Pittsburgh Pirates, Arizona Diamondbacks, Washington Nationals and Chicago White Sox, saw his profile soar in March of 2016 when he famously decided to quit the Chicago White Sox after being told that he would have to limit the time that his son, Drake, spent with the team.
When LaRoche signed with the Chicago White Sox in 2015, he was reportedly told that his son would be allowed to spend time with the team. According to reports, Drake LaRoche spent 100+ games with the club, joining the team on road trips and even participating in drills.
There is confusion as to what actually happened, but in March of 2016, the Team Executive Vice President for the Chicago White Sox, Kenny Williams, reportedly sat down with Adam LaRoche and asked for LaRoche to scale back the time that his son spent with the team. LaRoche refused and reportedly handed in his retirement papers on the spot.
The situation turned into a major controversy, with millions of people in the United States weighing in on the situation. Some felt that LaRoche was justified in walking away from the club and that "family is more important than money", while others felt that Drake LaRoche was spending far too much time with the team. In the end, LaRoche chose to retire and the team has now moved on.
-
Adam LaRoche was drafted in 1998 and 1999 by the Florida Marlins but did not choose to sign with the club. He was drafted once again by the Atlanta Braves in the 2000 amateur draft and inked a deal with the club.
Over the years, LaRoche established himself as a solid MLB first baseman with legitimate power. His best season came with the Washington Nationals in 2012, when he hit 33 home runs and 100 RBIs. LaRoche had two 100+ RBI seasons over the course of his career and four seasons with 90 or more RBIs.
LaRoche's 2015 season was a disappointment, as he hit 12 home runs and 44 RBIs while batting .207. For this reason, the Chicago White Sox were likely not too unhappy when LaRoche chose to walk away from the last year of his two-year contract.
-
Adam LaRoche did very well for himself over the course of his decade plus career, as he earned north of $70 million:
2004 - $300,000
2005 - $337,500
2006 - $420,000
2007 - $3,200,000
2008 - $5,000,000
2009 - $7,050,000
2010 - $4,500,000
2011 - $7,000,000
2012 - $8,000,000
2013 - $10,000,000
2014 - $12,000,000
2015 - $14,000,000 (includes $2 million buyout from Nationals)
Source: Baseball-Reference.com -
Adam LaRoche
Add together all of these numbers and you arrive at a cumulative salary of $71,807,500.
--
Adam LaRoche's decision to retire from the Chicago White Sox was made quite a bit easier by the fact that he almost surely had a bank account with well over $30 million in it, based on the salary that he has earned over the course of his career.
--
Photo:
Keith Allison
Notes:
Adam LaRoche is worth
582
times more than the median US household
If Adam LaRoche sold everything that they owned, they could fund the United States' deficit spending for
0
days.
This page last updated:
--
Note:
Net Worth changes calculated at 4 pm EST daily
The net worth pages are strictly for entertainment purposes only. The information on these pages is based on speculation and shouldn't be construed as being accurate in any way.