What is Brock Lesnar's Net Worth?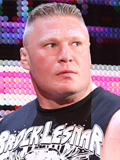 Name:
Brock Lesnar
Born: July 12th, 1977
Company:
Position: WWE Performer, UFC Fighter
Brock Lesnar currently has a
net worth
of an estimated:
$25,000,000
Information:
Brock Lesnar has achieved a stunning level of success at nearly everything that he has attempted over the course of his life.
In addition to becoming a NCAA Division 1 wrestling champion, Lesnar has also won and defended the UFC Heavyweight title. In addition, Lesnar is a multiple time WWE (World Wrestling Entertainment) Champion and very nearly made the NFL's Minnesota Vikings.
Lesnar, aka "The Beast Incarnate", is one of the most impressive athletes that the world has been fortunate to witness over the past couple of decades.
--
Lesnar first attended Bismarck State College as a youngster before transferring to the University of Minnesota. While attending the University of Minnesota, Lesnar became the NCAA Division 1 men's wrestling champion, which is one of the most impressive and difficult feats in all of college sports.
Following his success in college, Lesnar was signed by the WWE to a contract. The WWE was attracted by Lesnar's athletic ability and unbelievable size.
Lesnar would debut in the WWE in 2002 and quickly become one of the promotion's biggest stars. Lesnar won the WWE Championship multiple times while competing against the likes of Triple H and The Rock. Lesnar would meet his future wife, Sable, during his first run with the WWE.
Despite his success in the promotion, Lesnar would leave the WWE in 2004. The WWE offered Lesnar a massive contract to stay with the company, but Lesnar still elected to walk away. In later years, Lesnar would reveal that he did not enjoy life in the road and had developed numerous unhealthy habits (consuming alcohol and painkillers) that left him worried about his well-being.
After leaving the WWE, Lesnar attempted to crack the NFL when he tried out for the Minnesota Vikings. Despite his lack of experience as a football player, Lesnar very nearly made the team as a defensive tackle. After the Vikings decided to cut Lesnar, Brock decided that the NFL wasn't for him.
At this point, Brock decided that he wanted to give mixed martial arts a try. After winning a fight against Min-Soo Kim, Lesnar persuaded UFC President Dana White to sign him to a contract. Despite his initial reluctance, Dana White's decision to sign Lesnar would turn into one of the UFC's most important moves in its 20 year history.
In February of 2008, Lesnar made his debut in the UFC, losing to former champion Frank Mir via first-round kneebar. Despite the loss, Lesnar was impressive and earned himself more fights with the promotion.
Lesnar would beat Heath Herring easily in his next fight, which set up a title fight against Randy Couture at UFC 91. Lesnar won the fight against Couture via second-round knockout and was suddenly the UFC's Heavyweight champion.
Lesnar's win over Couture set up a rematch against Frank Mir at UFC 100, which would become one of the biggest cards in the history of the UFC. Lesnar destroyed Mir in the rematch, avenging his only loss as a MMA fighter.
After his victory over Mir, Lesnar was diagnosed with diverticulitis, which very nearly cost Lesnar his life. Despite being in poor health, Lesnar elected to take fights against Cain Velasquez and Alistair Overeem, both of which resulted in first round losses.
After his loss against Overeem, Lesnar announced that he was retiring from mixed martial arts. A short time later, Lesnar would announce that he was returning to the WWE as a part-time attraction.
-
Lesnar was granted the opportunity to return to the UFC following a five-year absence at UFC 200, despite still being under contract with the WWE. It is assumed that Lesnar was able to work in a clause in his deal with the WWE that would allow him to return to the UFC for a final fight.
Despite his long layoff, Lesnar defeated Mark Hunt via a dominant unanimous decision. The Beast was back.
-
Lesnar is one of the biggest draws that the UFC has ever had.
Four cards that Lesnar has appeared on - UFC 91, 100, 116 and 200 - did over 1 million buys. Lesnar, as part of his deal with the UFC, received PPV points for his appearances on UFC 91, 100 and 116. It is rumored that Lesnar made over $5 million from UFC 100, with UFC 91 and 116 also providing very healthy paydays.
For his return at UFC 200, Lesnar was paid a flat fee of $2.5 million, which was the highest salary paid in the history of the UFC. It is unknown as to whether or not Lesnar also received a cut of the PPV revenues.
On top of that, Lesnar reportedly receives an estimated $5 million per year from his deal with the WWE. This is especially impressive given Lesnar's part-time schedule with the company (Lesnar's deal calls for him to make a specified number of appearances per year).
-
Lesnar has never been shy about the fact that he likes money and plenty of it. Lesnar, thanks to his phenomenal string of successes, has made himself a very wealthy man.
Also Known As:
Beast Incarnate
The Next Big Thing
Notes:
Brock Lesnar is worth
323
times more than the median US household
If Brock Lesnar sold everything that they owned, they could fund the United States' deficit spending for
0
days.
This page last updated: July 10th, 2016
--
Note:
Net Worth changes calculated at 4 pm EST daily
The net worth pages are strictly for entertainment purposes only. The information on these pages is based on speculation and shouldn't be construed as being accurate in any way.