What is Chip Kelly's Net Worth?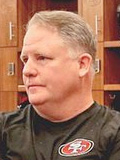 Name:
Chip Kelly
Born: November 25th, 1963
Company: San Francisco 49ers
Position: Head Coach
Chip Kelly currently has a
net worth
of an estimated:
$15,000,000
Information:
To some, Chip Kelly is a mad genius who has the ability to transform even the most moribund offences into juggernauts practically overnight.
To others, Kelly is a charlatan who is not capable of excelling at the NFL level.
--
Chip Kelly's story started back at the University of New Hampshire, where the current coach of the San Francisco 49ers played defensive back.
After leaving university, Kelly elected to pursue a career in coaching. Chip Kelly started at the bottom, working as a defensive backs and special teams coach at Columbia. Over the following years, Kelly would coach almost every facet of the game, as he served as a running backs coach (New Hampshire), outside linebackers and safeties coach (Columbia), defensive coordinator (Johns Hopkins), offensive coordinator (Oregon, New Hampshire), offensive line coach (New Hampshire) and eventually head coach (Oregon, Philadelphia Eagles, San Francisco 49ers).
Kelly's big break came when he was named head coach of the Oregon Ducks for the 2009 season. Over the following years, Kelly would turn the school into an offensive juggernaut. Success followed, as Oregon appeared in two Rose Bowls and one BCS National Championship game during Kelly's four year run at Oregon. Kelly employed an up-tempo offence that would leave opposing defences flummoxed and exhausted, which led to Oregon's offence putting up some gaudy numbers during Kelly's stay as the head coach. Would Kelly's "genius" extend to the NFL?
After the 2012 college football season came to an end, Kelly started negotiating with a number of NFL teams, namely the Cleveland Browns and Philadelphia Eagles. First it appeared as though Kelly would be signing with the Browns. After that, the Eagles made their pitch. Kelly made some noise about wanting to stay at Oregon, but then elected to ink a deal with the Philadelphia Eagles.
Things started off well for Kelly in Philadelphia, as he led the team to two straight 10-6 seasons. Prior to the 2015 season, Kelly reportedly asked Philadelphia's owner for more power, namely in the form of direct say over player personnel decisions. This led to the trade of LeSean McCoy to Buffalo, amongst other moves. Nick Foles, LeSean McCoy and Jeremy Maclin left the team, only to be replaced by Demarco Murray and Sam Bradford.
The risky moves didn't work out, as Philadelphia limped to a 6-9 start to the 2015 season. Philadelphia Eagles owner Jeffrey Lurie, known for his patience and willingness to ride out storms, decided that he had had enough of the Chip Kelly experiment and fired the former Oregon coach before the end of the season.
There was some thought that Kelly would return to college football, though he was emphatic that he wanted to stay in the NFL. A number of potential suitors emerged, with the San Francisco 49ers eventually inking the controversial coach to a deal. The thought process? If anybody can resurrect Colin Kaepernick's career, Chip Kelly can.
Kelly has been dogged by allegations that he is a racist (both LeSean McCoy and DeSean Jackson have made this claim) and incredibly hard to interact with. While nobody denies that Kelly is gifted with his offensive schemes, coaching a NFL team requires a great deal of inter-personal skills, which many people claim that Kelly lacks.
Some argue that Kelly's up-tempo offence doesn't work in the NFL. Without a proper huddle, some opposing defensive players have argued that Kelly is forced to scale down the complexity of his plays, which leads to opposing defences being able to easily sniff out upcoming plays.
-
After making $1.8 million during his first year in Oregon, Kelly was rewarded with a new six-year, $20.5 million contract in 2010. Annual compensation started at $2.4 million before escalating to $4 million in the final year of the deal. There were buyout clauses in case Kelly decided to leave early for another job, however - after leaving for Philadelphia, Kelly was likely forced to pay out millions to Oregon, per the terms of the deal.
Kelly inked a 5 year/$32.5 million deal with Philadelphia in early 2013. This deal, which saw Kelly earn roughly $6.5 million in annual compensation, was seen at the time as an extremely generous contract for a coach who hadn't proved himself at the professional level.
After departing from the Eagles, Kelly signed a 4 year/$24 million deal with the San Francisco 49ers. It's interesting to note that this was roughly $1 million/year more than what the 49ers' former head coach, Jim Harbaugh, was earning with the club.
Notes:
Chip Kelly is worth
194
times more than the median US household
If Chip Kelly sold everything that they owned, they could fund the United States' deficit spending for
0
days.
This page last updated: January 17th, 2016
--
Note:
Net Worth changes calculated at 4 pm EST daily
The net worth pages are strictly for entertainment purposes only. The information on these pages is based on speculation and shouldn't be construed as being accurate in any way.