What is Holly Holm's Net Worth?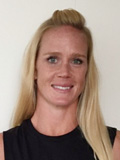 Name:
Holly Holm
Born: October 17th, 1981
Company: UFC (Ultimate Fighting Championship)
Position: Fighter
Holly Holm currently has a
net worth
of an estimated:
$750,000
Information:
Holly Holm, who is the current UFC Women's Bantamweight champion, will always be known as the person who handed "Rowdy" Ronda Rousey her first ever loss as a professional mixed martial arts fighter.
In a star-making performance, Holly Holm defied all of the odds to knock Rousey out cold in the main event of UFC 193: Rousey vs Holm. Heading into the fight, practically the entire world expected Rousey to maul her opponent en route to an easy victory. Holm, however, had different ideas and used her superior boxing to methodically dismantle the champion before knocking Rousey out with a brutal kick to the head.
Holly Holm became a household name literally overnight as a result of the win. The audience for the fight was massive - 56,214 people in attendance in Melbourne, Australia, 1.1 million people who bought the PPV and countless other millions who were following the result of the fight online. As mentioned, Holm became a star overnight and is now set to cash in.
--
Holly Holm has competed in boxing, kickboxing and now mixed martial arts, winning multiple titles along the way. Holm has 38 boxing, 3 kickboxing and 10 mixed martial arts fights under her belt and currently trains at Jackson-Winkeljohn MMA, which is also home to Jon "Bones" Jones and other notable fighters.
Holm was signed by the UFC in July of 2014 to a five-fight deal. When she was signed, Holm was mentioned as a natural possible opponent for Ronda Rousey, who was easily slicing her way through the Women's Bantamweight division at the time.
After underwhelming in her first two UFC fights against Marion Reneau and Raquel Pennington, the mixed martial arts world was stunned to learn that Holm would be getting a shot at Rousey's title. Miesha Tate was thought to be receiving the title shot and was none too pleased to get passed over by Holm. Tate had already lost twice in her career to Rousey, however, and Holm was given the shot at the title.
The terms of Holm's deal with the UFC called for her to receive $25,000 to show and $25,000 for each victory. When she fought Rousey, Holm received $30,000 in Reebok sponsorship money and also made an additional $100,000 in disclosed bonuses.
Now that she is champion, Holm will be in line to make much more money. In fact, Holm and the UFC extended their deal in January of 2016, shortly after Holm won the title in dominating fashion. Terms of the deal were not released, though Holm was supposedly "very happy" with the deal.
As a champion, Holm will receive PPV points for each of her fights. This means that if a card reaches a certain number of buys, Holm will receive a predetermined amount of money per PPV buy over a certain amount. This is where the real money is made in the UFC.
Holm has a big fight coming up against Miesha Tate and stands to make millions from the fight, as Conor McGregor is set to headline the card against Nate Diaz. This will result in a staggering number of PPV buys, which will translate into millions for Holm's pocketbook.
If Holm can beat Miesha Tate, this will set up another very lucrative fight against Ronda Rousey, which will likely take place in late 2016.
In short - Holly Holm is set to cash in large over the coming months, and her net worth will soar as a result.
-
Holm signed a two-year sponsorship deal with Hi-Tech Pharmaceuticals after her victory over Ronda Rousey.
Also Known As:
The Preacher's Daughter
Notes:
Holly Holm is worth
10
times more than the median US household
If Holly Holm sold everything that they owned, they could fund the United States' deficit spending for
0
days.
This page last updated:
--
Note:
Net Worth changes calculated at 4 pm EST daily
The net worth pages are strictly for entertainment purposes only. The information on these pages is based on speculation and shouldn't be construed as being accurate in any way.