What is Jordan Spieth's Net Worth?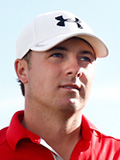 Name:
Jordan Spieth
Born: July 27th, 1993
Company: PGA (Professional Golfers' Association of America)
Position: Golfer
Jordan Spieth currently has a
net worth
of an estimated:
$40,000,000
Information:
With Tiger Woods' golf game falling off at a frightening rate, the PGA (Professional Golfers' Association of America) has been looking for a new face to lead the sport forward. Jordan Spieth, who is polite, focused, articulate and frighteningly good, may be just the player to do so.
Spieth, who was born on July 27th, 1993 in Dallas, Texas, has taken the golf world by storm. After turning pro in 2012, Spieth accumulated nearly $18 million in tournament earnings in less than three years. 2015 was Spieth's coming out party, as he won both the Masters and US Open Championship within months of each other. Spieth became just the fourth player to win multiple tournaments (US Open, Masters, Valspar Championship, John Deere Classic) by the age of 22, joining Tiger Woods, Sergio Garcia and Robert Gamez as the only players to do so.
--
Spieth attended the University of Texas for 1 1/2 years before quitting to turn pro. Under Armour sagely inked Spieth to a deal early, which turned out to be a very profitable and prescient move. Under Armour was so impressed by Spieth's success that they tore up their deal and inked the young phenom to a new 10-year deal. Under Armour, which has been quickly gaining on Nike in the golf apparel space, can be credited for securing Spieth to a long-term deal before Nike could get their hands on him. This move may end up propelling Under Armour past Nike in the golf apparel space.
Spieth's first win as a professional came at the 2013 John Deere Classic, when he shot a 19 under (70-65-65-65) and officially announced himself to the world (through his game, not his words) as one of the game's best young talents. Spieth didn't win an event in 2014, though he did finish in second place in the Hyundai Tournament of Champions for $665,000.
Spieth's breakthrough year was 2015, when he won the Masters, U.S. Open, Tour Championship and FedExCup title all in the same season. In a single day in September, Spieth claimed the Tour Championship and FedExCup title, which resulted in a one-day payday of nearly $11.5 million ($10 million bonus for FedExCup title, $1.485 million for Tour Championship). Spieth's unbelievable year netted him approximately $22 million in tour earnings as well as countless future endorsement dollars.
2016 has been a bit of a setback year for Spieth. Despite his 2 wins and over $4 million in prize money, Spieth suffered a meltdown at The Masters that saw him finish in second place. Spieth followed this up with a 37th place finished at the US Open (+9) - it will be interesting to see how the second half of 2016 goes for Spieth.
-
In addition to the tens of millions in earnings that Spieth has made on the tour, he also has sponsorship deals with a number of blue chip sponsors, including:
Under Armour
AT&T
Titleist
Rolex
Perfect Sense
Netjets
Superstroke
Spieth's deals likely have a strong bonus component, meaning that his wins likely trigger bonus clauses that pay him millions of dollars in extra earnings. Rory McIlroy reportedly earns as much as $20 million per year from his deal with Nike - given Spieth's performance in 2015, he will likely find himself in the same stratosphere as McIlroy thanks to performance bonuses.
According to reports, Spieth made $6 million from off the course deals in 2014, and that was before he won his first major tournament. It stands to reason that Spieth's endorsement dollars have at least doubled (and probably much more) thanks to his recent success.
In addition to his tournament earnings and sponsorship contracts, Spieth will make millions in overseas appearance fees. When the tournament season starts to wind down, names such as Woods and McIlroy make millions of dollars by travelling overseas to take part in various golfing events and tournaments, and Spieth will now join that elite class of player.
-
Spieth has something else going for him as well - he is well-spoken, polite and focused, much like Tiger Woods before scandals and injuries took the bloom off of the rose. Blue chip sponsors have had no problem making Spieth the face of their products, and this will contribute to his bank account significantly in the years to come.
Spieth's net worth, according to my calculations, currently sits at around $40 million. He stands to cash in immensely over the coming years, however, and it probably won't be long until his net worth is north of $100 million.
Update:
With Spieth's dramatic win at the 2017 Open, he brushes off any notion that he is a "choker" (due to some of the events of 2016).
Spieth's win at the Open will translate into even more lucrative endorsement opportunities, as sponsors will be clamoring to partner with the affable and incredibly talented golf pro.
Also Known As:
Golden Child
Notes:
July 3rd, 2016 - added notes on the first half of 2016, including Spieth's meltdown at The Masters.
July 23rd, 2017 - added notes on Spieth's dramatic win at the Open.
--
Jordan Spieth is worth
517
times more than the median US household
If Jordan Spieth sold everything that they owned, they could fund the United States' deficit spending for
0
days.
--
Note:
Net Worth changes calculated at 4 pm EST daily
The net worth pages are strictly for entertainment purposes only. The information on these pages is based on speculation and shouldn't be construed as being accurate in any way.