What is Manny Pacquiao's Net Worth?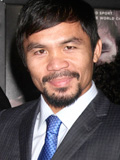 Name:
Manny Pacquiao
Born: December 17th, 1978
Company: n/a
Position: Professional Boxer, Actor, Businessman
Manny Pacquiao currently has a
net worth
of an estimated:
$200,000,000
Information:
Manny Pacquiao shows that nice guys can, in fact, finish first.
Manny Pacquiao, born in Kibawe, Bukidnon, Phillipines in December of 1978, fought his first professional fight against Edmund Enting Ignacio in January of 1995 at the tender age of just 16. Pacquiao, who was seven pounds under the minimum weight limit, reportedly had weights in his pockets at the weigh-ins in order to make weight. Pacquiao decided to pursue a professional boxing career after the death of a close friend and ended up becoming one of the most bankable professional boxers in the world.
Pacquiao moved his way up the ladder in the boxing world using extremely hard work and his propensity for seizing opportunities when they are presented to him. Pacquiao's first big break came in 2001 when he accepted a fight on short notice against Lehlohonolo Ledwaba. Pacquiao's second big break came against Marco Antonio Barrera in November of 2003 - in both fights, Pacquiao dazzled the crowd with his quickness, determination and power. A star was born.
Like with Floyd Mayweather, Jr., Pacquiao's big break came against Oscar De La Hoya. Pacquiao, who would win the December/2008 tilt, ended up collecting his first big payday from the fight (Pacquiao received a reported $15 million). After that fight, Pacquiao was officially on the map, as he would collect paydays of as much as $20 million against the likes of Rickey Hatton, Miguel Cotto, Joshua Clottey and Antonio Margarito. At the end of those four fights, Pacquiao had cemented his status as one of the most reliable PPV draws in the world.
Pacquiao's earnings would continue to increase with his 2011 tilts against Shane Mosley and Juan Manuel Marquez, as he reportedly earned $30 million from each fight.
Around this time, the talk of a Pacquiao/Mayweather "superfight" reached a fever pitch. Given Pacquiao's popularity and the desire of the boxing public to finally see Mayweather lose, the projections for this fight were off the charts. If the two pugilists were to step into the ring, the conventional wisdom went, all gate and PPV records would be shattered.
Unfortunately for boxing fans, the Pacquiao/Mayweather fight didn't happen at this particular juncture. Disputes over revenue splits, drug tests and an entire litany of other issues would derail the fight that everyone wanted to see. Mayweather and Pacquiao would go their separate ways, with both fighters continuing to earn very large paydays - but not THE payday.
Manny Pacquiao was derailed by two losses - one against Timothy Bradley, Jr. and another against Juan Manuel Marquez. The Bradley decision was considered by almost everyone to be an absolute robbery, while the Marquez fight resulted in Pacquiao getting knocked out cold. Many assumed that the Mayweather fight would never happen following these two losses.
Pacquiao would persevere, however, notching consecutive wins against Brandon Rios, Timothy Bradley, Jr. and Chris Algieri.
In early 2015, a breakthrough after many years of frustration - Pacquiao and Mayweather FINALLY came to terms on a bout agreement for May 2nd, 2015. Given the PPV projections for the fight, many assume that Mayweather will earn $180 million, while Pacquiao will earn $120 million (the two fighters agreed to a 60/40 split). This payout would bring Pacquiao's career earnings over the $400 million mark.
--
Thanks to his popularity in Asia and extremely likeable personality, Manny Pacquiao became one of the most bankable stars in the history of the boxing business. In addition to raking in numerous eight figure paydays, Pacquiao also fought at Cowboys Stadium and the MGM Grand multiple times.
In addition, Pacquiao was able to parlay his popularity into sponsorship deals with the likes of NIke, Sony and Hewlett-Packard. Floyd Mayweather, Jr., on the other hand, is not popular with sponsors thanks to his brash personality and history of brushes with the law. On top of all of that, Pacquiao has expanded his brand into the world of business, acting, singing and politics - Pacquiao, extremely popular in his home country, was elected to the Philippine House of Representatives.
-
Pacquiao, who is considered to be one of the top three pound-for-pound fighters in the world, currently has a record of 57-5-2, with his losses coming against Juan Manuel Marquez, Timothy Bradley, Jr., Erik Morales, Medgoen Singsurat and Rustico Torrecampo.
Also Known As:
Pac-Man
Fighting Pride of the Philippines
The Filipino Slugger
Notes:
Manny Pacquiao is worth
2,587
times more than the median US household
If Manny Pacquiao sold everything that they owned, they could fund the United States' deficit spending for
0.1
days.
--
Note:
Net Worth changes calculated at 4 pm EST daily
The net worth pages are strictly for entertainment purposes only. The information on these pages is based on speculation and shouldn't be construed as being accurate in any way.