What is Nick Saban's Net Worth?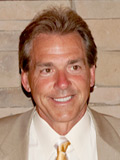 Name:
Nick Saban
Born: October 31st, 1951
Company: Alabama
Position: Head Coach
Nick Saban currently has a
net worth
of an estimated:
$35,000,000
Information:
Nick Saban is widely regarded as being one of the greatest college head coaches of all time. The results certainly speak to this, as Saban has won five national titles - four with Alabama and one with LSU. As a matter of fact, Saban is the ONLY college football coach to have ever won national titles with two different teams.
In addition to being one of the most successful college football head coaches of all time, Saban has used his leverage extremely effectively over the years to negotiate increasingly lucrative contract deals for himself. From Michigan State to LSU to the Miami Dolphins to Alabama, Saban has been able to jump from program to program to secure himself better contracts.
--
Saban worked his way up the ladder, as he had a number of assistant and co-ordinator roles over the years at Kent State, Syracuse, West Virginia, Ohio State and Navy, as well as the Houston Oilers and Cleveland Browns of the NFL.
Saban received his first head coaching job in 1989 when he was hired by the University of Toledo. Saban quickly turned around the program, leading them to a 9-2 record before he promptly resigned to become the defensive coordinator of the Cleveland Browns. This theme would continue to play itself out over the course of Saban's coaching career - he has never been afraid to leave a relatively comfortable situation in order to secure himself a more prominent position with more money.
Saban returned to the college ranks in 1995 when he signed a deal to become to the new head coach at Michigan State. Saban remained at Michigan State until 1999, when he parlayed a strong season into a head coaching job at LSU (Louisiana State University).
Saban won his first national title at LSU in 2003 and firmly established himself as one of college football's top coaching and recruiting talents. At the end of the 2004 season, Saban would leave LSU to become the new head coach of the Miami Dolphins.
After posting successes at Michigan State and LSU, Saban was unsuccessful in the NFL, leading the Dolphins to a record of 15-17 over the course of two seasons. Despite Miami's executive team wanting Saban to remain as their head coach, Saban elected to bolt to Alabama on January 3rd, 2007, where he remains to this day. Saban has won three national titles at Alabama and has turned the school into one of the nation's college football powerhouses.
-
As mentioned, Saban has done very well for himself over the years and has leveraged every situation that he has been in into increasingly lucrative contracts.
Saban's deal with Michigan State reportedly paid him $700,000 per year. Saban then jumped to LSU after signing a 5 year deal that reportedly guaranteed him $1.5 million a year with incentives. In 2004, Saban re-upped with LSU by signing a 7 year deal that reportedly guaranteed him a minimum of $2.3 million in his first year of the deal. By the completion of the 7 year deal, Saban would have been making over $3 million per year.
As mentioned, Saban left LSU to sign with the Miami Dolphins. This deal was a five year, $22.5 million contract - Saban would remain with the team for two years and would earn an average of $4.5 million per year.
Saban's original deal with Alabama in 2007 was for eight years and $32 million, with $700,000-$800,000 extra possible per year in performance bonuses. Saban made $3.5 million in his first year with Alabama, just under $4 million/year in 2009 and roughly $6 million in 2010.
Saban's current deal is an eight year/$55.2 million contract that averages out at $6.9 million per year. This includes $6.5 million in salary and personal services fees, as well as an additional $400,000 in completion bonuses. In addition, Saban can earn an additional $700,000 year in performance bonuses.
Prior to Saban's most recent contract negotiation with Alabama, rumors were floated that he was considering a jump to the University of Texas. This didn't turn out to be the case, and Saban finally seems as though he has found a home in Alabama.
Alabama, for its part, has been more than glad to have Saban on board. To show their appreciation, a private foundation bought Saban's house for $3.1 million and allows the head coach and his family to live there for free.
It's good to be Nick Saban.
--
Photo:
Beasley Allen Law Firm
Notes:
Nick Saban is worth
453
times more than the median US household
If Nick Saban sold everything that they owned, they could fund the United States' deficit spending for
0
days.
--
Note:
Net Worth changes calculated at 4 pm EST daily
The net worth pages are strictly for entertainment purposes only. The information on these pages is based on speculation and shouldn't be construed as being accurate in any way.