What is Rob Manfred's Net Worth?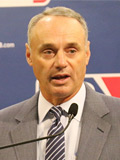 Name:
Rob Manfred
Born: September 28th, 1958
Company: Major League Baseball (MLB)
Position: Commissioner
Rob Manfred currently has a
net worth
of an estimated:
$25,000,000
Information:
Rob Manfred was elected the 10th Commissioner of Major League Baseball on August 14th, 2014, as he beat out Tom Werner and Tim Brosnan for the job. The election was far from unanimous, as a contingent of owners, reportedly led by Chicago White Sox owner Jerry Reinsdorf, were against the naming of Manfred as Commissioner. Manfred won out in the end, however, receiving the exact number of votes - 23 - to become the Commissioner of Major League Baseball.
--
Rob Manfred graduated from Cornell University and Harvard Law School. He was named a partner at Morgan, Lewis and Bockius, where he focused on labor and employment law. Manfred assisted Major League Baseball during collective bargaining in 1987 and continued to work with the league over the next decade. Manfred assisted the owners during the 1994-95 strike and was eventually named Major League Baseball's Vice President of Economics and League Affairs in 1998 - he has remained with the league ever since.
Manfred has had a number of major responsibilities during his time with the league. Manfred negotiated the league's first drug testing agreement with players in 2002, and also represented the league in their CBA talks with players in 2002, 2006 and 2011. The players and owners have lived relatively harmoniously over the past few decades, and Manfred is seen as a major reason why.
In addition, Manfred led the league's investigation of the Biogenesis scandal in 2013. Manfred was then named the league's Chief Operating Officer on September 28th, 2013, which is where he remained until taking over the Commissioner job on January 24th, 2015.
-
Manfred was awarded a five-year contract before he officially took over from Bud Selig in January of 2015. Prior to leaving his post, Selig was reportedly making $22 million per year in salary and other compensation. It would stand to reason that Manfred would be making at least half of that to start, which would put his salary and other compensation at $11 million per year.
Manfred has been with Major League Baseball for nearly 20 years and it stands to reason that he would have been compensated well during that time. After all, the league has flourished thanks, in large part, to an influx of TV money, and it would only make sense that Manfred would stand to benefit. With his new deal recently kicking in, I would be comfortable pegging his net worth at around $25 million, but this will obviously substantially increase over the coming years.
--
Photo Credit:
Arturo Pandavila III
Notes:
Rob Manfred is worth
323
times more than the median US household
If Rob Manfred sold everything that they owned, they could fund the United States' deficit spending for
0
days.
--
Note:
Net Worth changes calculated at 4 pm EST daily
The net worth pages are strictly for entertainment purposes only. The information on these pages is based on speculation and shouldn't be construed as being accurate in any way.