What is Ronda Rousey's Net Worth?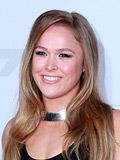 Name:
Ronda Rousey
Born: February 1st, 1987
Company: UFC (Ultimate Fighting Championship)
Position: Fighter
Ronda Rousey currently has a
net worth
of an estimated:
$10,000,000
Information:
"Rowdy" Ronda Rousey, who is the former UFC Women's Bantamweight champion, has become one of the most recognizable athletes in the world over the past couple of years.
Whether it is winning in just 16 seconds at a UFC PPV that she is headlining or appearing on the front cover of Sports Illustrated or slamming Floyd Mayweather at the ESPYs in front of a national audience, Ronda Rousey is everywhere. In addition, Rousey has managed to parlay her fame into roles in Expendables 3, Furious 7 and Entourage, and a book about her life titled My Fight/Your Fight.
The sponsors have followed as well, as Rousey now has deals with Reebok, Monster, metroPCS and Buffalo Jeans. Given Rousey's surging profile, you can expect even more sponsors to jump on board in the coming months and years.
--
At the age of 11, Rousey followed her mother's footsteps and began training judo. Rousey, who is known for her competitive fire, decided to commit herself to the sport and the results soon followed. Rousey won a gold medal at the World Junior Judo Championships in 2004, a silver medal at the 2007 World Judo Championships and a gold medal at the 2007 Pan American games.
Rousey would earn a spot on the US Olympic team in 2008 (Beijing), where she won a bronze medal.
Instead of attempting a return at the 2012 Olympics, Rousey decided to pursue mixed martial arts. Rousey would compete three times in amateur competitions (she won all three fights by armbar) before turning pro on March 27th, 2011 at KOTC: Turning Point. Rousey would win that fight in just 25 seconds after submitting Ediane Gomes via armbar.
The "Rousey via armbar" theme would continue for a while, as she beat the likes of Charmaine Tweet, Sarah D'Alelio and Julia Budd via armbar. These wins earned Rousey a shot at Miesha Tate and the Strikeforce Women's Bantamweight title - Rousey would win that fight via armbar as well.
On February 23rd, 2013, Rousey would make her UFC debut. Following the UFC's purchase of Strikeforce, major Strikeforce stars like Rousey jumped over to the UFC. Rousey's first fight would be against Liz Carmouche - once again, Rousey won by armbar, though she did suffer a scare early in the fight.
Rousey's image as a virtually unbeatable fighter was solidified at UFC 175 and UFC 184, when she beat her opponents (Cat Zingano and Alexis Davis) in just a couple of seconds. With these victories, Rousey's fights have started to take on a vintage Mike Tyson feel - you watch not because the fights will be competitive, but rather to witness the violence.
The UFC and Rousey, however, suffered a major hit when Holly Holm savaged at UFC 193 by Holly Holm. Holm bruised and battered Rousey over the course of the 1+ round fight before knocking "Rowdy" out with a perfectly placed kick to the head. Rousey's image as an unbeatable fighter was forever tarnished and she has elected to remain out of the spotlight ever since. Rousey will reportedly be returning to the UFC in early 2017, when she will likely take on the winner of Tate/Nunes, which is set to take place at UFC 200 on July 9th, 2016.
-
Ronda Rousey receives a guaranteed amount of money for her UFC fight, as well as PPV points (which means that she receives a cut of PPV revenues). UFC 184 really established Rousey's strong drawing power, as the event, which was seen as having a substandard main card (aside from the Rousey fight), ended up doing almost 600,000 buys. This established Rousey as one of the UFC's biggest and most reliable draws. Thanks to her PPV points, Rousey would have ended up making millions from that fight, despite the fact that it lasted just 14 seconds.
Add in her sponsorship dollars (which are set to grow in the coming months and years) and money from movie roles and Ronda Rousey is quickly building up her bank account. Rousey is still in the prime of her career (and will be for some time), which means that she still has a number of prime earnings years left.
It remains to be seen how Rousey's knockout loss at the hands of Holly Holm in November of 2015 will impact her drawing power going forward. There remains little doubt, however, that Rousey remains one of the UFC's largest draws.
Also Known As:
Rowdy
The Arm Collector
Notes:
July 3rd, 2016 - updated page to reflect Rousey's loss to Holly Holm at UFC 193. Upgraded Rousey's net worth to $10 million following the strong PPV numbers at UFC 193.
--
Ronda Rousey is worth
129
times more than the median US household
If Ronda Rousey sold everything that they owned, they could fund the United States' deficit spending for
0
days.
--
Note:
Net Worth changes calculated at 4 pm EST daily
The net worth pages are strictly for entertainment purposes only. The information on these pages is based on speculation and shouldn't be construed as being accurate in any way.