What is Theresa May's Net Worth?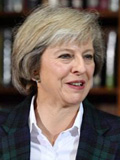 Name:
Theresa May
Born: October 1st, 1956
Company: n/a
Position: Prime Minister of the United Kingdom
Theresa May currently has a
net worth
of an estimated:
$2,500,000
Information:
After a twenty year career in politics, Theresa May was named the Prime Minister of the United Kingdom on July 13th, 2016. May was named the new PM following David Cameron's decision to step down following the United Kingdom's decision to leave the European Union (aka "Brexit").
--
After graduating from St. Hugh's College, Oxford in 1977 with a BA degree in Geography, Theresa May worked at the Bank of England (1977-1983) and the Association for Payment Clearing Services (1985-1997).
Following several unsuccessful attempts, May finally stepped foot into the world of politics in 1997 after being elected as a Member of Parliament for Maidenhead. This would begin a lengthy political career for May that would include positions as the Home Secretary, Minister for Women and Equalities and Shadow Secretary of State for Work and Pensions.
On July 11th, 2016, May was named as the new leader of the Conservative Party. A few days later, May was officially named the new Prime Minister.
-
As she was running for leadership of the Conservative party, May released four year's worth of her tax returns. Her income from 2011-15 looked like this:
2011/12 - £128,938
2012/13 - £125,968
2013/14 - £119,352
2014/15 - £117,350
Thanks to her new role as Prime Minister of the United Kingdom, May will see her income get bumped up to £143,462, which doesn't include any interest or dividend income.
-
Theresa May's husband, Philip, currently works as an investment banker at Capital International.
Prior to that, Philip worked at de Zoete & Bevan, Prudential Portfolio Managers UK and Deutsche Bank Asset Management UK.
-
Theresa May will also be entitled to a healthy pension as a result of her long term as a MP and for her time spent as Prime Minister of the country.
Notes:
Theresa May is worth
32
times more than the median US household
If Theresa May sold everything that they owned, they could fund the United States' deficit spending for
0
days.
This page last updated: July 13th, 2016
--
Note:
Net Worth changes calculated at 4 pm EST daily
The net worth pages are strictly for entertainment purposes only. The information on these pages is based on speculation and shouldn't be construed as being accurate in any way.