What is Zlatan Ibrahimovic's Net Worth?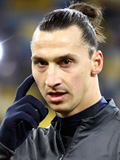 Name:
Zlatan Ibrahimovic
Born: October 3rd, 1981
Company: Paris Saint-Germain, Swedish national team
Position: Center Forward
Zlatan Ibrahimovic currently has a
net worth
of an estimated:
$170,000,000
Information:
The mercurial and talented Zlatan Ibrahimovic is widely considered to be one of the top soccer players in the world.
Ibrahimovic, who was born on October 3rd, 1981 in Malmo, Sweden, currently plays center forward for Paris Saint-Germain of French Ligue 1, as well as the Swedish national team.
Ibrahimovic first put on a pair of soccer boots at the age of six. He signed his first professional contract with Malmo FF in 1996, and would eventually move up to their senior team in 1999. It was here that Ibrahimovic would display his striking skill - a skill that result in him playing for some of the very top clubs in the world.
--
On March 22nd, 2001, Ajax and Malmo completed a transfer for Ibrahimovic. Ibrahimovic would be sold to Juventus on August 31st, 2004, after allegations surfaced that Zlatan had intentionally injured his teammate Rafael van der Vaart in an international friendly against the Netherlands. This would become a common theme in Ibrahimovic's career, as the aggressive and often moody striker would reportedly get into numerous dust-ups with both teammates and coaches.
In August 2006, Ibrahimovic moved to Inter Milan and inked a four year deal. Juventus had been relegated to Serie B after the verdict from the Calciopoli scandal had been handed down. Juventus tried to convince Ibrahimovic and others to stay, though Ibrahimovic had wanted his freedom instead.
Ibrahimovic would renew his deal with the club in 2007 and was reportedly receiving 9 million EUR per year (750k EUR per month). At the time, Ibrahimovic was the highest paid football player in the world.
Ibrahimovic would be traded to Barcelona in 2009 for Samuel Eto'o, the loan of Alexander Hleb and an undisclosed fee. The marriage between Barcelona and Ibrahimovic, who had inked a five year deal with the club, didn't last long after rumors surfaced that Ibrahimovic had not been getting along with coach Pep Guardiola.
Ibrahimovic was loaned to AC Milan for the 2010-11 season, with AC Milan having the right to purchase him at the end of the season for 24 million EUR.
On July 17th, 2012, PSG acquired the rights to Ibrahimovic for an initial transfer fee of 20 million EUR. Ibrahimovic would sign a three year deal that would see him collect 14 million EUR per year including bonuses. Ibrahimovic extended his deal in September of 2013, adding an additional year to his deal at a reported 15 million EUR per year.
The move for PSG has paid off nicely, as PSG has won the league title in both of the years that Ibrahimovic has been with the club. Zlatan has led the league in scoring in both years with PSG.
-
In addition to the money that he receives from his deal with PSG, Ibrahimovic also receives a reported $4 million per year in sponsorship money.
On top of that, Zlatan is reported to be very shrewd with his investments, as he has reportedly done exceedingly well investing in both real estate and the stock market.
Also Known As:
Ibra
Zlatanera
Notes:
Zlatan Ibrahimovic is worth
2,199
times more than the median US household
If Zlatan Ibrahimovic sold everything that they owned, they could fund the United States' deficit spending for
0.1
days.
--
Note:
Net Worth changes calculated at 4 pm EST daily
The net worth pages are strictly for entertainment purposes only. The information on these pages is based on speculation and shouldn't be construed as being accurate in any way.