Own The "Definitive" Sherlock Holmes Series Starring Jeremy Brett
Click Here To Buy The Complete Sherlock Holmes Collection - Save $134.99
Currently 59% Off (Amazon)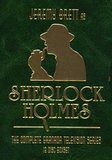 From 1984 to 1994, Granada Television produced "The Adventures of Sherlock Holmes". This series, which originally aired on iTV in the United Kingdom, has since garnered acclaim throughout the entire world.
Jeremy Brett is seen as the "definitive" Sherlock Holmes, while David Burke is seen as playing Watson in the way that Sir Arthur Conan Doyle originally intended. Granada Television also spared no expense, as the series has very high production values and a close attention to period detail. This is seen as the definitive Sherlock Holmes collection.
The set contains 2,580 minutes of sleuthing, which works out to 43 hours of viewing, not including the extras. That works out to $2/hour of entertainment, and you will very likely find yourself watching the series over and over and over again.
There are 36 one-hour episodes and five feature-length specials including all of the favourites, including:
The Hound of the Baskervilles
The Sign of Four
The Final Problem
A Scandal in Bohemia
The Blue Carbuncle
All of the villains that you love to hate appear in the series as well, including Professor James Moriarty, Charles Augustus Milverton and Colonel Sebastian Moran.
-
There have been over 450 reviews of this set on Amazon.com, with an average rating of 4.9/5. 92% of the reviews are 5 star ratings.
Do yourself the favor of purchasing this series. As mentioned, this is seen as the definitive Sherlock Holmes collection. If you love the books, you will certainly love this series, as the producers made sure not to deviate too far from the stories.
-
The extras for this set include:
Interview with Adrian Conan Doyle
Sherlock Series Promo
Three commentary tracks
Sherlock Museum Short
The full list of episodes:
A Scandal in Bohemia
The Dancing Men
The Naval Treaty
The Solitary Cyclist
The Crooked Man
The Speckled Band
The Blue Carbuncle
The Copper Beeches
The Greek Interpreter
The Norwood Builder
The Resident Patient
The Red-Headed League
The Final Problem
The Empty House
The Abbey Grange
The Musgrave Ritual
The Second Stain
The Man With The Twisted Lip
The Priory School
The Six Napoleons
The Sign of Four
The Devil's Foot
Silver Blaze
Wisteria Lodge
The Bruce-Partington Plans
The Hound of the Baskervilles
The Disappearance of Lady Frances Carfax
The Problem of Thor Bridge
Shoscombe Old Place
The Boscombe Valley Mystery
The Illustrious Client
The Creeping Man
The Master Blackmailer
The Last Vampyre
The Eligible Bachelor
The Three Gables
The Dying Detective
The Golden Pince-Nez
The Red Circle
The Mazarin Stone
The Cardboard Box
Click Here to Buy The Full Sherlock Holmes Collection