Tyson Fury Looks To Win in Return To Boxing Ring
Click Here To Bet on Fury vs Seferi
Bet365 is the personal sportsbook of choice for Dave Manuel
The always entertaining Tyson Fury, who has a perfect record of 25-0-0 with 18 knockouts, will step back into the ring this weekend following a lengthy absence from the sport of boxing.
The last time that we saw Tyson Fury, the Manchester born boxer was defeating Wladimir Klitschko via unanimous decision in Dusseldorf, Germany. Who would have known that Fury would go on to take nearly three years away from the sport after scoring his biggest ever victory?
The good news? The 6'9 Fury is still in his 20s and has a long career ahead of him, should he choose to continue boxing after his fight against Sefer Seferi. Fury has been rumored to head to the UFC at some point, though that seems like a long shot.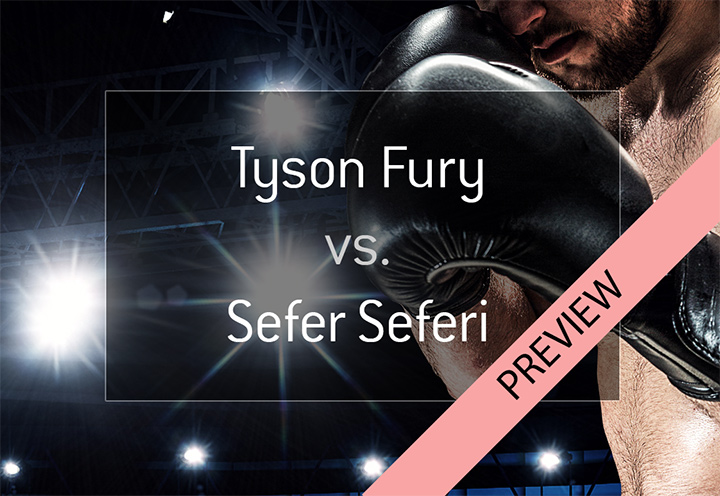 As mentioned, Fury has a perfect 25-0-0 record, with wins coming against the likes of Klitschko, Christian Hammer and Dereck Chisora. Sefer Seferi will be extremely outmatched when he steps into the ring at Manchester Arena on Saturday night, as evidenced by the current betting odds.
Sefer Seferi has a record of 23-1-0, though he has never faced anybody close to the caliber of a Tyson Fury. Following a loss to Manuel Charr in September of 2016, Seferi has notched two straight wins against Laszlo Hubert and Marcelo Ferreira dos Santos. 21 of Seferi's wins have come via knockout, and he will almost certainly need some sort of a flash knockout in order to emerge victorious against Fury.
Let's take a look at some of the odds for this fight, courtesy of Bet365:
Source: Bet365
Time Stamp:
June 4th, 2018 10:02 pm EST
Odds Subject to Change
Tyson Fury, 1.01
Sefer Seferi, 17.00
Betting on Fury at 1.01 is a sucker's bet, as you are essentially saying that he would not lose if these two fought 100 times. That may be the case, though risking your wager for a 1% return doesn't seem like the smartest idea in the world.
Here are the
method of victory
odds:
Fury by KO, TKO or DQ, 1.11
Fury by Decision or Technical Decision, 6.0
Seferi by KO, TKO or DQ, 26.0
Draw or Technical Draw, 34.0
Seferi by Decision or Technical Decision, 41.0
Total Rounds
Over 5.5, 2.1
Under 5.5, 1.66
-
There doesn't seem like much question that Tyson Fury will win this fight - the big question becomes, how long will it take him to finish Seferi?
After years off from the sport that involved a two-year long suspension, Tyson Fury is finally going to be stepping back into the ring, much to the delight of British boxing fans. Does he have what it takes to fight at the highest levels again following nearly three years off from the sport? How will he look on Saturday night? What does the future hold for Fury after this weekend's fight against Seferi?
Boxing fans around the world will be watching this fight with great interest to see if the Fury of old will return at Manchester Arena.