Here Comes George W. Bush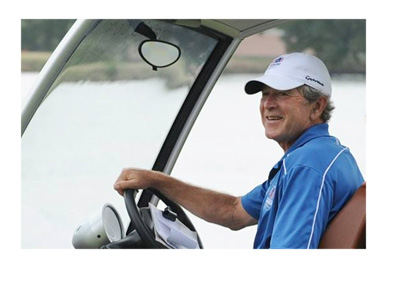 Former President George W. Bush has kept a fairly low profile since exiting the White House in January of 2009.
That will change, however, when George W. Bush, the 46th Governor of Texas and 43rd President of the United States, will make a campaign appearance to support his brother Jeb in South Carolina next week.
The Bush family has a history of doing well in South Carolina primaries, as both George H.W. Bush and George W. Bush won primaries in the state (George W. Bush in 2000 and George H.W. Bush in 1988). The Jeb Bush campaign, which has staked a great deal on doing well in South Carolina, will be hoping that an appearance by former President George W. Bush will make a positive impact.
George W. Bush will be appearing at a Jeb Bush campaign rally in North Charleston on Monday.
-
The Jeb Bush for President campaign, which has disappointed so far, may have seen a faint glimmer of hope after the recently completed New Hampshire Republican primary. While Jeb Bush finished in fourth place, far behind Donald Trump, he did manage to finish ahead of Marco Rubio, who has seen his star fade in recent weeks.
According to the most recent polling data, Jeb Bush is currently in fourth place in South Carolina, just behind Marco Rubio. Donald Trump is the clear favorite to win in the state, so Jeb Bush is hoping to pull a rabbit out of his hat by enlisting the help of his brother. In order to start building momentum, Jeb will have to surprise soon, and South Carolina would seem to be the place to do it, based on the history of the Bush family in the state.
-
Can George W. Bush help to slow down the momentum of Donald Trump, or is Jeb Bush running a doomed campaign? Jeb has nine days to make some magic happen in the state.
Filed under:
General Knowledge