Definition of Going Long
What does the term "going long" mean as it applies to the stock market? What does "going long" mean?
"Going long" means to buy something (usually a stock). The opposite of "going long"? Going short.
I'm "going long" MSFT and "I'm buying" MSFT means exactly the same thing.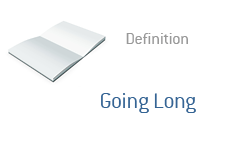 Let's give you a few examples to fully illustrate the meaning of this term.
Example 1.
XYZ is reporting their Q3 earnings after the bell. They announce that both earnings and revenues were far above expectations and that business is looking great for the upcoming quarters. You quickly decide that you are "going long" XYZ due to their strong earnings.
Example 2.
The results of the midterm elections leads you to believe that the markets will be heading higher over the near-term, so you decide that you are going to "go long" on a basket of tech stocks in order to take advantage of the anticipated move higher.
--
Davemanuel.com Articles That Mention
Going Long:
Forex For Beginners