Wallstreet.com Up For Sale - Final Sale Price May Shatter Records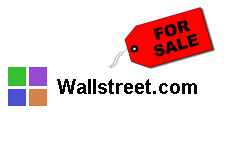 Are you in the market for an ultra-premium domain name? Do you have $5 - $10 million dollars burning a hole in your pocket, which is estimated to be the range in which the final sale price of the domain comes in at? If so, then Wallstreet.com could be the perfect domain name purchase for you.
The domain is currently being listed by Moniker.com, which is the company that is managing the auction. According to Moniker.com CEO Monte Cahn, the reserve price range is between $4 to $5 million dollars. The "reserve price" is the minimum that a seller is willing to sell an item for. So at the bare minimum, if there is any interest at all, Wallstreet.com will sell for 4-5 million.
Will there be enough interest in the domain to shatter the record that is currently held by porn.com? Porn.com sold for $9.5 million dollars. It seems to be a leap to entertain the thought of Wallstreet.com shattering this record, but you never know. With the prices that some domain names are fetching these days, you can never be too sure.
Wallstreet.com was originally owned by an online casino who bought the domain name in 1999 for $1 million dollars. The company then dumped the domain in 2003 for an estimated $2.3 million dollars to a "European entrepreneur and two other investors".
Apparently Wallstreet.com attracts 2,000 visitors per day, just based on old links and type-in traffic.
While Wallstreet.com is attracting all of the attention, Taxes.com and Computer.com are both going up for sale as well, and they are expected to sell in the low seven figures. If you ask me, I would much rather have Taxes.com OR Computer.com, and at a fraction of the price that Wallstreet.com is selling for.
Keep in mind that Wallstreet.com is a stand alone site with no attached business. Domains such as Business.com and Fund.com both sold for more than Porn.com, but both of these domains had fully-functioning businesses attached to the domains, which obviously increased their values. In terms of a straight domain name transaction, Porn.com still holds the record (for now).
In my opinion, the sellers of Wallstreet.com should be lucky to fetch their reserve price.
Filed under:
Internet Companies