Higher Total Sales, Less Sales Per Person on "Cyber Monday"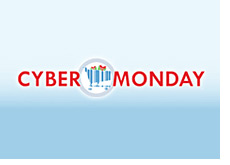 First off - what is "Cyber Monday"?
"Cyber Monday" is a relatively new term that was coined by Shop.org, which is part of the National Retail Association. "Cyber Monday" is the Monday following "Black Friday". "Black Friday" kicks off the bricks-and-mortar holiday shopping season, while "Cyber Monday" is the kick-off of the online shopping season.
The premise is that people will return home after "Black Friday" and the weekend after, and pick up all of the items online that they weren't able to purchase in a traditional store.
Comstore recently published their report on retail sales for "Cyber Monday" (December 1st, 2008) and there are some pretty clear winners that jump out from the report.
First off - the e-commerce industry in general had a bit to smile about, as online spending was up 15% from last year.
Here is the problem though - there was a 22% increase in the total number of buyers. The average buyer made 9% fewer purchases than last year, and spent 5% less.
Also, many of the leading online retailers dramatically slashed prices to lure buyers. So while overall sales may have been higher, the picture isn't as pretty as some people would like to believe. Profit margins, for most retailers, were certainly way down compared to last year.
One stat that was interesting to me - according to Comstore, 50% of all "Cyber Monday" purchases were originated on work computers. Just 39% of purchases were made from home.
eBay received the most traffic of any retailer site. Traffic for eBay was up about 45% from their November average, as 12.98 million people visited eBay on December 1st.
After eBay, you had: Amazon, Wal-Mart, Target and Apple.
As mentioned, Apple was a big winner on "Cyber Monday", and this holiday shopping season is definitely off to a strong start for the company. Apple saw a 43% increase over November's numbers, with 3.68 million people visiting their online store on December 1st.
An article on CNN Money points out that Apple had returned to offering their normal prices on Monday, while most other retailers were still offering steep discounts. This goes to show that consumers are still purchasing Apple products and don't need to be lured by steep discounts to do so.
Best Buy had a marked increase in traffic on "Cyber Monday", showing a 131% increase over November's numbers. Oldnavy.com, Macy's Inc., and Hewlett Packard all showed very strong increases in traffic.
When we move to the top 10 most visited online retail resource sites, some more obvious winners jump out at us.
Shopzilla.com was the busiest resource sites on "Cyber Monday", boasting of a total of 1.95 million visitors. They narrowly topped Yahoo! Shopping, which showed an increase of 81% over November's traffic. Google Product Search came in third, MSN Shopping came in fourth and Nextag.com came in fifth.
CyberMonday.com saw a traffic spike of 7578%, not surprising given that the site is number one in Google for "Cyber Monday". The site had an average of 13,000 visitors per day in November, and saw over a million visitors on December 1st.
One thing is clear - consumers are still willing to buy, but in most cases must be persuaded by some pretty steep discounts in order to open their wallets or purses. Consumers will find some great deals as Christmas draws closer, while most retailers will continue to suffer.
Sources: CNN.com -
Apple was 5th busiest retail site on Cyber Monday
Comstore.com -
Attractive Discounts Bring Deluge of Buyers to Retail Sites on Cyber Monday
Filed under:
Internet Companies