Income Tax Refunds Temporarily Suspended Due to Budget Dispute in Kansas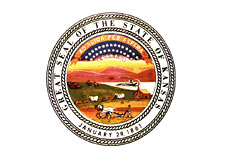 The Associated Press is reporting that the state of Kansas has suspended income tax refunds for the time being, and may not have the money to pay state employees at the end of the week.
Kansas is dealing with a budgetary shortfall, and state politicians can't agree on how to make up the gap in funding.
Governor Kathleen Sebelius (Democrat) wants to transfer approximately $225 million dollars from other state government bank accounts into its main budget account.
Republican leaders in the state have agreed to sign off on such a transfer until Sebelius signs legislation that would "erase the state's current year budget deficit". (source:
Kansascity.com
). This would include statewide school funding cuts of $32 million dollars, as well as cuts to various other agencies in the state.
If an agreement isn't reached, then income tax refunds will continue to be delayed, as well as Medicaid reimbursements and payments to local schools.
The state is currently trying to deal with an increased budget deficit which has been exacerbated by lower-than-expected tax revenues.
This isn't the first state that has had to suspend income tax refunds.
The state of California announced last month that they would be issuing IOUs on state tax refunds while they figure out how to close a $41 billion dollar budget deficit. This resulted in a predictable backlash against state politicians, and politicians in Kansas can likely expect the same type of fury to be directed towards them.
Kansas Budget Directory Duane Gooseen has publicly stated that he's "not sure" that the state can meet its payroll if the current standoff isn't resolved. State employees are slated to be paid again this Friday - I would be surprised if the situation isn't resolved by then. We'll keep you posted.
Filed under:
The Economic Meltdown