Is Blockbuster Filing For Bankruptcy?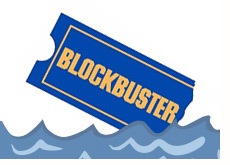 Blockbuster Inc., the movie rental chain that once had a valuation in the many billions of dollars, is rumored to be on the brink of filing for bankruptcy.
The company denies the bankruptcy rumors, saying that it had simply hired law firm Kirkland & Ellis to help in the re-financing of a $328 million dollar revolving credit line and to help raise new capital.
Investors in the company voted with their feet on Tuesday, dumping their shares in a frenzy of selling that took the stock down nearly 77% in just a few short minutes.
The stock was eventually halted, with the company releasing a statement after the bell stating that it was NOT filing for bankruptcy protection.
The sell-off was triggered by a
Bloomberg.com report
which stated that the company had hired Kirkland & Ellis LLP to investigate different restructuring options for the company, which "may included a pre-packaged or pre-arranged bankruptcy". The stock plummeted after this report was released, sending the stock down nearly 80%.
With Blockbuster trading at just 20 cents per share - is bankruptcy inevitable at this point? Can they actually survive through the summer without having to file for bankruptcy?
Back in 2002, Blockbuster traded at around $30 per share. This gave the company a multi-billion dollar valuation, but since then, things have pretty much gone straight downhill for Blockbuster.
The company has been besieged from all angles by many different companies and forms of media. Online video, mail-order movie services such as Netflix and the ability to order movies from home have all conspired to chip away at Blockbuster's once-lucrative business.
The company is vehemently denying any rumors of a potential bankruptcy filing.
Having said that, avoiding bankruptcy over the next six months is going to be a very tall order for the company, and I'm not sure that they can pull it off.
We'll keep an eye on this situation.
Filed under:
The Economic Meltdown