The CIA Is Looking To Hire Former Wall Street Analysts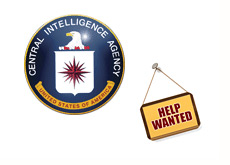 Did you recently lose your cushy job as a Wall Street analyst?
Are you finding that there isn't much of a demand for MBAs in this current economic environment?
If so, then take heart - the CIA is hiring, and they want YOU.
Sure, the pay is nothing compared to working at a hedge fund (back in the glory days) or working at a major Wall Street firm, but who can get those jobs these days anyways?
In a recent posting on their web site
, the CIA announced that they are looking to fill numerous "economic and financial analyst positions". All resumes (if you are interested) must be submitted by June 22nd.
The CIA's Directorate of Intelligence "seeks economists to assess foreign economic policies and foreign financial issues". These people would "work closely with political, leadership and military analysts through the Intelligence Community in producing current and longer-term intelligence products".
Newly hired people would also assist in assessing illicit financial activities, according to the posting.
The pay? A salary between $48,682 and $95,026, depending on the level of experience?
The requirements? A bachelor's or master's degree in economics, finance, business administration, international managements or economic crimes management. A GPA of at least 3.0 is also required.
Applicants should also note that they will be subjected to a "thorough" medical and psychological exam, polygraph interview and "an extensive background investigation". US citizenship and a lack of drug use over the last 12 months are also required by the agency.
According to this blog posting on WSJ.com
, the CIA has already seen "several hundred" resume submissions for this particular job posting. With the coverage that this has received over the past couple of days, I would expect many more.
Financial analysts have been largely savaged over the past couple of years due to their inability (or unwillingness) to accurately predict the "Great Recession". While the Titanic (US economy) was slowly sinking and filling with water, many financial analysts continued to tow the company line and continue recommending stocks all the way down.
This has led many to ask the question - why would the CIA want these people to work for their agency? What have they done to make themselves worthy of helping to set government policies going forward?
??
Filed under:
General Knowledge