Ratings Down Substantially at CNBC Compared to Last Year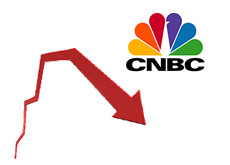 When the "Great Recession" really started picking up steam in mid-2008, many investors flocked to CNBC in an effort to stay on top of quickly breaking events.
An imploding real estate market. The subprime mortgage crisis. Lehman Brothers. Bailouts.
People knew that there was a tidal wave of change taking place in the global economy, and many tuned in to CNBC in an attempt to figure out what was going on.
For CNBC, the global economic meltdown was great for business. Viewership was way up and many elements of the CNBC operation were thrust into the mainstream spotlight.
With the recession likely in its last days, many viewers are starting to pull away from the financial news network.
According to a recent article on Guardian.co.uk (link below), ratings have been significantly lower at CNBC as of late.
According to recently released Nielsen numbers, the average number of Americans watching CNBC at any point of the day is down 11% from last year.
Even more troubling for the network is the fact that there has been a "28% plunge in CNBC viewers during the core business day, between 5 am and 7 pm."
People are increasingly less worried about the possibility of a second "Great Depression", so many people are choosing to avoid CNBC while flipping the channels.
In addition, the network has been stung by a number of embarrassing happenings over the past year or so. The Cramer/Stewart situation. The Rick Santelli rant. The list goes on and on.
CNBC may be in a troublesome situation (ratings wise at least) going forward.
If the economy returns to growth mode in the near future, then many people who tuned in to CNBC to witness the carnage in the global economy will be gone.
In addition, many people are currently very distrusting of the equity markets, meaning that you aren't likely to see a surge of people tuning in to hear about potential investment strategies.
In order to maintain any ratings momentum, CNBC will likely need either:
a) a continued implosion of the global economy (seems pretty unlikely)
b) a strong, sustained bull market in equities
The worst case scenario for CNBC? A moderate recovery for both the economy and the equity markets, which will send many people into "Who cares?" mode.
Source: Guardian.co.uk -
CNBC Slides as Viewers Get Crunched
Filed under:
General Knowledge