KfW Considered To Be World's Safest Bank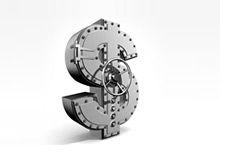 Global Finance Magazine (link below) just recently released their list of the 50 safest banks in the world for 2009.
How did the widely read (50,000 subscribers) publication determine which banks were the safest to hold your money in? They determined the highest ranking banks through a combination of overall risk exposure, total assets and long-term credit ratings.
This is the 18th year in which the list has been published.
So, which bank is considered to be the absolute "safest" in the world?
The answer is KfW, which is a government-owned bank that is based out of Frankfurt, Germany.
It's interesting that KfW holds the number one spot, especially considering the fact that they are considered to be "Germany's dumbest bank". They earned this moniker by
transferring a large sum of money
(over $400 million dollars) to Lehman Brothers on the same day that Lehman filed for bankruptcy.
However, according to Global Finance Magazine, KfW has a sterling financial position that makes them the envy of the banking world.
Germany actually has 4 of the top 9 "safest" banks. Landwirschaftliche Rentenbank (#4), Landeskreditbank Baden-Wuerttemberg-Foerderbank (#7) and NRW Bank (#8) also made appearances in the top 10, and all are based out of Germany.
European banks dominated the top 10 list, with banks from France (Caisse des Depots et Consignations), the Netherlands (Bank Nederlands Gemeenten) and Switzerland (Zuercher Kantonalbank) rounding out the top five.
The only non-European bank that found itself in the top 10 was the Royal Bank of Canada, which claimed the #10 spot.
Canada's banking system has been lauded over the past couple of years due to their conservative lending practices and strong financial standing. It certainly reflects in this list, as all of their top banks (Royal Bank, TD Bank, Scotiabank, Bank of Montreal and CIBC) managed to crack the top 50.
Australian banks weren't able to crack the top 10, but they did represent strongly from #11 - #20. A total of four Australian banks (National Australia Bank, Commonwealth Bank of Australia, Australia & New Zealand Banking Group and Westpac Banking Corporation) all managed to crack the top 20.
The top UK bank? HSBC Holdings plc, which came in at #18. The United Kingdom only had two banks (HSBC Holdings and Nationwide Building Society) crack the top 50.
Japan, which has the second largest economy in the world, only managed to have one bank crack the top 50 (Shizuoka Bank, #48). This shouldn't be very surprising given the amount of economic turmoil that the country has endured over the past 20 years or so.
How did the United States fare?
A total of 5 US banks cracked the top 50 - however, the highest ranking US bank (Bank of New York Mellon Corporation) managed to come in at just #32. The "Great Recession" has done a number on the overall stability of US banks.
Source: Global Finance Magazine -
World's 50 Safest Banks 2009
Filed under:
General Knowledge