The Unemployment Rate Was Last Over 10% In June of 1983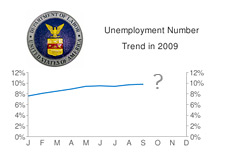 In just a few short hours, the unemployment rate in the United States could officially be into the double digits. The Labor Department will be releasing employment data for October at 8:30 am EST on Friday morning.
Many economists are anticipating that the unemployment rate will increase slightly from 9.8% to 9.9%.
However, there are some economists who believe that the October unemployment rate will come in at 10% or 10.1% in October, which would mean double-digit unemployment for the first time in nearly 30 years.
Most economists expect that the economy lost between 150k - 200k jobs in October, which would be significantly better than the 263k that were shed in September. These numbers are still ugly, but they are a marked improvement from the darkest days of the "Great Recession".
Even if the national unemployment rate doesn't top 10% tomorrow, most believe that it is a foregone conclusion in the months ahead. The unemployment rate, by most accounts, is expected to peak sometime in mid to late 2010.
When was the last time that the United States experienced an unemployment rate of 10% or higher?
The answer is:
June 1983
.
The unemployment rate topped 10% for ten months straight in 1982-83, as the US economy struggled with the crippling effects of
stagflation
(weak economic activity coupled with high inflation).
It's hard to believe that the unemployment rate in October of 2007 was 4.8%. How many people would have considered 10% unemployment in the United States even remotely possible back then, let alone just two years later? It's sometimes hard to believe just how fast the US economy has fallen in such a short period of time.
The difference between 10% unemployment and 4.8% unemployment? About 7.2 million jobs. That's an unbelievable amount of people who are now out of work.
Will the unemployment rate fall to below 5% anytime soon, or is a perpetually high rate of unemployment the new reality in the United States?
Source:
Historical Unemployment Rates in the United States
Filed under:
The Economic Meltdown