Can The American Consumer Save The Holiday Shopping Season?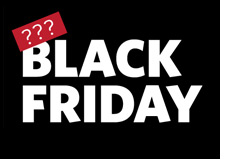 Will the American consumer break open their depleted wallets this holiday season, or are retailers going to suffer one of their worst holiday shopping seasons on record?
As you are already likely aware, "Black Friday" is coming up this week.
"Black Friday" is the "official" kickoff for the holiday shopping season, and is one of the busiest shopping days of the year.
"Black Friday" got its name from the fact that the Friday after Thanksgiving is thought to be the day when most retailers move from a loss (in the "red") to a profit ("in the black") for the year.
After "Black Friday" you have "Cyber Monday", and after "Cyber Monday" you have all of the hectic shopping days leading up into Christmas.
The holiday shopping season, for obvious reasons, can make or break a retailer. Given the horrific economic environment that we currently find ourselves in, many retailers might not be around next year unless consumers decide to ignore the down economy and spend at a fairly normal clip.
Some people feel as though the 2009 holiday shopping season may end up surprising people in terms of its strength, while other people (I would call this the majority) are forecasting an awful shopping season.
The people who believe in a strong-than-expected shopping season point to:
-an economy that has emerged from a deep recession
-incredible deals
-the surprising strength of the American consumer
-a number of in-demand electronic devices (iPhone, Kindle, etc)
Those who believe in a weak retail environment this holiday season point to:
-millions of people out of work compared to last year
-less access to easy credit
-less access to home equity loans
-more expensive credit
-general angst over the economy
--
With an unemployment rate of over 10%, it's pretty hard to imagine that the '09 holiday shopping season will generate more sales than expected.
However, never underestimate the American consumer.
We'll get a good idea as to what will happen this upcoming holiday weekend..
Filed under:
General Knowledge