Where To Buy an Amazon Kindle in Canada
Wondering how you can best go about purchasing your Amazon Kindle if you live in Canada? Wondering about the costs involved? Wondering how long it will take for your Kindle to show up at your doorstep? I'll try to answer all of your questions here.
To start - I just received my Kindle earlier today (and I live in Canada). I ordered the Kindle on a Sunday night, and I received it via UPS delivery on Tuesday afternoon. Gotta love Amazon.
Let's look at the step-by-step process as to how you order the Kindle, and some pieces of information that you might be wondering about:
1.
Visit this page
(Amazon.com) to purchase the Kindle. The price for the Kindle is $189.00 (USD). I would recommend purchasing the case too - you will be surprised as to how small and light the Kindle is, and you want to protect it.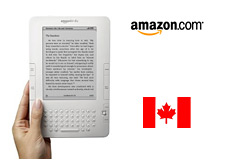 Q. Shouldn't I order this from Amazon.ca?
A. You can't. The Kindle is only available through Amazon.com (for now).
2. You need to pay import fees as you are purchasing the Kindle from Amazon.com. Amazon.com will charge you the proper fees during the check-out process (it came out to $31.08 for me) and handle the payment of the border fees for you. You are basically paying the import fees up front, and then Amazon.com (as Amazon Export Sales, Inc.), will clear the package and pay the custom fees on your behalf. Note: you do not need to pay the delivery guy anything when he shows up with your Kindle.
3. After purchasing the Kindle, you will receive an invoice in your email from Amazon. Save this for your records.
4. When the Kindle ships (the next business day), you will receive a "Welcome to Amazon Kindle" welcome email. Amazon.com automatically attaches your account information to the Kindle that is coming in the mail.
For instance, when you turn your Kindle on, it will say "(Insert Your Name Here)'s Kindle". If the Kindle is for yourself, then you will be glad to know that your account information is already connected to the Kindle, which will make the purchase of Kindle books very simple.
If the Kindle is a gift for someone else, then you will need to de-register the Kindle and then re-register it for the person who is receiving it as a gift. The email will let you know how to do this.
5. The Kindle will show up in a fairly small box. When you open it, you should have your Kindle, an attachment to plug in the Kindle to an outlet your computer, and a small book on how to use the Kindle.
6. Plug the Kindle into the wall to start charging it. I believe that it takes three hours to fully charge the Kindle, but keep in mind that you can use it while it is charging (just like a cell phone). I believe that the Kindle has a battery life of about four days with wireless 3G turned on (longer when it is turned off), but I'm not 100% sure about this.
7. Figuring out how to use the Kindle is very simple. Just mess around with it a bit. Using the store to purchase new books is very simple - Amazon.com has made it very easy for you. There is nothing that I can really tell you here, other than that you should have it done within 5-10 minutes.
8. Purchasing your first book. You will need to confirm your credit card information on your Kindle before you purchase your first item. When you have done that, the book will start downloading. It should show up within 1-2 minutes, based on the first book that I downloaded. You will receive an invoice via email when the transaction has gone through.
--
That's about it. If you use the priority international shipping option, then you should have your Kindle within 2 business days of ordering it.
Click Here To Purchase A Kindle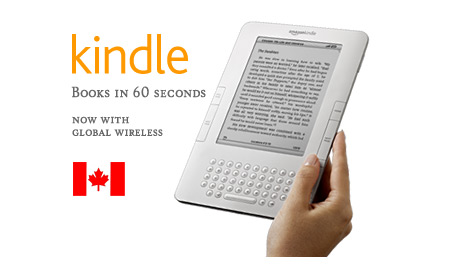 Filed under:
General Knowledge