Markets Worry Over Possible Dubai Debt Default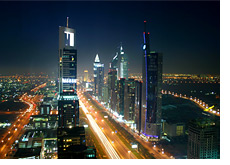 As many people were busy eating their turkey dinners and watching football today, major events were unfolding halfway across the world that will likely have a dramatic impact on the markets over the next few weeks.
Dubai World, which is "an investment company that manages and supervises a portfolio of businesses and projects for the Dubai government", startled the world by demanding a standstill on its interest payments.
Dubai World has approximately $59 billion dollars in debt, which is about 3/4 of what Dubai owes as an emirate (Dubai is part of the United Arab Emirates).
Dubai World manages a number of companies including Dubai Ports World, Economic Zones World and Nakheel, which is the real estate developer behind some of the more notable projects such as the "Palm Islands" and "International City". You have likely heard about "Palm Islands" on the news, which was meant to be massive artificial islands that would house major commercial and residential developments.
So what does it mean if "Dubai World" is asking for a six-month debt standstill? It means that the company is so swamped with debt that it is asking debt-holders for a six month reprieve on paying interest.
Markets were rattled by the sudden announcement, and many are speculating that Abu Dhabi might not help out Dubai as it has in the past.
Investors across the world are spooked for a number of reasons:
1. They wonder what the regional impact would be if Dubai defaulted on their debt (prices to insure debt on neighboring nations have spiked in the aftermath of this announcement)
2. They wonder who owns this $59 billion dollars in debt and what their total exposure is (many banks across the world tonight are quickly issuing statements denying that they own any of this debt, while others are fessing up)
3. They wonder if a default might create a contagion that spreads throughout the world and derails the tepid economic recovery that is currently taking place
Dubai, which was supposed to be home to some of the world's most breath-taking manmade structures, has fallen on hard times due to the credit crunch. Many of the ambitious plans have been scrapped or delayed.
This could turn into a very big story over the coming days and weeks..
Source: TimesOnline -
Dubai in Deep Water as Ripples From Debt Crisis Spread
Photo:
.EVO.
Filed under:
The Economic Meltdown