The Strongest and Weakest Days of the Year For the Markets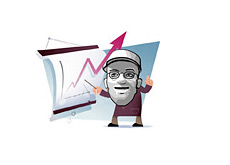 Let's file this article under "pretty useless information" and "I clearly have too much time on my hands."
I decided that it might be interesting to figure out the strongest days of the year historically for the three major US stock market indexes (DJIA, NASDAQ, S&P 500), as well as the weakest days.
I'm not talking days of the week - I'm talking about actual days of the year (January 3rd, April 10th, etc).
I have data going back to 1928 for the DJIA, 1971 for the NASDAQ and 1950 for the S&P 500.
Here are the five strongest days of the year for the DJIA, going back to 1928:
1. October 20th, +0.63%
2. March 15th, +0.50%
3. January 2nd, +0.47%
4. December 30th, +0.46%
5. July 3rd, +0.42%
Now, here are the five weakest days of the year for the DJIA:
1. October 22nd, -0.41%
2. October 19th, -0.40%
3. September 26th, -0.36%
4. October 9th, -0.36%
5. February 23rd, -0.32%
Not a surprise that three of the top four weakest days for the DJIA have come in October.
Here is the data for the NASDAQ:
Top 5 Days
1. November 24th, +0.94%
2. October 28th, +0.74%
3. April 18th, +0.72%
4. January 3rd, +0.68%
5. October 13th, +0.65%
Bottom 5 Days
1. November 19th, -0.57%
2. October 27th, -0.55%
3. June 18th, -0.46%
4. February 9th, -0.46%
5. January 20th, -0.45%
And, finally, here is the data for the S&P 500:
Top 5 Days
1. October 28th, +0.55%
2. November 24th, +0.48%
3. December 26th, +0.42%
4. December 16th, +0.39%
5. October 20th, +0.38%
Bottom 5 Days
1. October 19th, -0.50%
2. October 22nd, -0.46%
3. November 19th, -0.43%
4. September 29th, -0.37%
5. March 30th, -0.34%
Filed under:
General Knowledge