California and Countries Such as Thailand and Tunisia Share a Common Bond - What is It?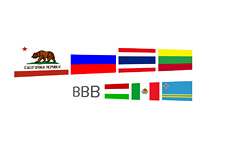 California. Aruba. Hungary. Russia. Thailand. Tunisia. Lithuania. Mexico.
What does the state of California have in common with the seven sovereign nations listed above?
The answer? BBB credit ratings, courtesy of Fitch Ratings.
Fitch is one of the "big three" credit rating agencies, along with Moody's and S&P.
Let's take a quick peek at what a BBB credit rating means. Here is Fitch Rating's national long-term credit rating scale:
AAA - highest rating given out by Fitch. This means that there is very little default risk.
AA - very low default risk
A - low default risk, but changes in circumstances or economic conditions could have an adverse impact on the country's ability to make a timely debt payment, relative to countries with AAA or AA credit ratings.
BBB - moderate default risk
BB - elevated default risk
As you can see, the state of California, as well as Aruba, Hungary, Russia, Thailand, Tunisia, Lithuania and Mexico all have "moderate" default risk compared to other countries and states.
In the case of California, no other state in the union currently has a credit rating (from Fitch) lower than an A rating. Illinois is the only state that is even close, and they still have an "A" rating.
Note: Moody's currently has a rating of Baa1 on California's general obligation bond ratings, while S&P currently has a rating of A-.
There was a time, a few decades ago, when California had a perfect credit rating at all three ratings agencies.
Times have changed, and the state of California now finds itself up against the wall, battling with incredibly large budget gaps practically every year. The state has been hammered by a precipitous drop in tax revenues and has struggled mightily to bring its expenditures in line.
As a nation, the United States still has a perfect AAA credit rating at Fitch Ratings, despite their enormous budget deficits and ballooning national debt load. You have to figure that eventually the US will be in line for a credit downgrade if these massive deficits continue.
Which countries currently have a better credit rating than California, Aruba, Hungary, Russia, Thailand, Tunisia, Lithuania and Mexico?
Here are a few:
South Africa
Slovenia
Slovakia
Portugal
Poland
Malaysia
Korea
Israel
Greece (for now)
Estonia
China
--
With a 12.4% unemployment rate and a massive budget gap to deal with, you have to wonder if California isn't running the risk of yet another credit rating downgrade.
Filed under:
General Knowledge