Will Germany Back Down In Their Effort to Go After Tax Evaders?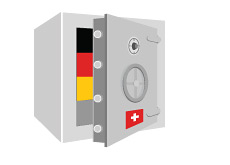 Germany and Switzerland are currently in the midst of an squabble over German tax evaders. Over the past couple of days, this squabble has gotten a great deal more interesting.
Before we get into the details of the skirmish between Germany and Switzerland, let's take a quick look at the roots of the dispute.
Switzerland's seemingly impenetrable shroud of secrecy surrounding the country's banking accounts was shattered after UBS AG (the world's second largest manager of private wealth assets, based out of Switzerland) cut a deal with the US government.
In February of 2009, UBS agreed to provide the US government with the identities of "about 250" American clients, in addition to forking over a fine of approximately $780 million. The US government had alleged that UBS had helped approximately 17,000 US citizens evade US income taxes.
So, the veil of banking secrecy in Switzerland had been popped by the deal between UBS and the US government, and now other countries wanted to know which of their citizens were using Swiss bank accounts to evade taxes as well. Countries were ESPECIALLY eager to learn this information due to the economic meltdown, as chasing down tax evaders would result in billions of dollars in additional tax receipts and penalties.
Germany is no different.
Germany, though, has taken the unusual step of declaring that they are prepared to acquire a CD that contains information on approximately 1,500 German citizens who have used Swiss bank accounts to avoid paying German income taxes.
Apparently, an "informant" has offered the German government the opportunity to purchase the CD for $3.5 million, and the Germans appear to be interested in the deal. German Chancellor Angela Merkel said that "if this data is relevant, it must be our objective to acquire it."
This wouldn't be the first time that the German government has paid handsomely for such data. In 2007, Germany paid about 5 million Euros for information that included the identities of German citizens who were using the principality of Liechtenstein to evade taxes. The investment was a smart one, as Germany ended up retrieving nearly 200 million Euros in back taxes, thanks to the information.
However, some in the Swiss parliament aren't very happy with Germany's approach and are vowing to fight back.
Alfred Heer, who belongs to the SVP political party in Switzerland, alleged that "Swiss financial sources had evidence that German politicians and judges maintained tax-dodging accounts in Switzerland and Liechtenstein."
Heer stated that he would work towards having these names published if Germany goes along with its plan to purchase the CD that is filled with names of potential German income tax dodgers.
Will this stop the German government from purchasing the disc? I guess that depends on which members of the German government have secret bank accounts in Switzerland..
Source: SpiegelOnline -
Berlin Risks Spat with Switzerland Over Tax Evaders
Source: MSN.com -
Swiss Politician Threatens to Disclose Top German Tax Cheats
Filed under:
General Knowledge