Intrade.com Speculators Bullish on "Obamacare" Health Care Reform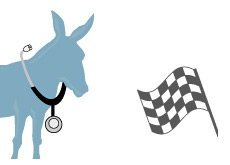 Will Democrats be able to muster up enough votes to pass their health care reform bill in a historic vote on Sunday?
Democrats will need 216 votes to pass the "Obamacare" health care reform bill in the House on Sunday. Democrat heavyweights, including Bill Clinton and President Obama, have been frantically working the phones over the past couple of days in an attempt to drum up the votes necessary to pass the bill. Republicans have been just as active in arguing against the bill, noting that its passage will result in higher premiums and taxes for middle-class families.
Given what is at stake, it can be no surprise that the debate over the bill has dominated headlines as of late. Will the Democrats be able to build enough support to pass the $875 billion reform plan, or will the Republicans deal President Obama a major blow by fighting back this legislation?
News reports have been back and forth as to whether or not the Democrats will be able to find enough votes to pass this through the House. One minute you will hear from an unnamed source who is confident that the Democrats will get the needed votes, and the next minute you have somebody refuting these claims. Given the mad scramble that is currently taking place in Washington right now, the final vote will obviously be very close.
Intrade.com traders clearly expect that President Obama will sign health care reform into law by this summer.
Intrade.com is a long-established site in which people can bet money on a certain prediction, and the "price" of the prediction will rise and fall based on demand, just like in a stock.
For instance, you can buy a contract that states that President Obama will pass health care reform by midnight, June 30th, 2010. Or, you can sell this contract (short) if you don't believe that this will take place.
As of right now, the last price for the "Obamacare" contract was 81.0. If you wanted to buy this contract, you would have to pay 83.9 for each contract. If you wanted to sell it, then you would get 81.0 for it.
This means that Intrade.com speculators feel that there is currently an 81% chance that "Obamacare" health care reform will be passed into law by the end of June. This is up dramatically from the beginning of March, when the contract was trading for about 30.0.
If you bought an "Obamacare" contract at 83.9 and health care reform was passed by June 30th, then your contract would be worth 100.0. If President Obama wasn't able to sign health care reform into law by June 30th, then the contract would be worth nothing.
These "Obamacare" contracts are by far the most popular on Intrade.com right now.
Will health care reform be signed into law over the next few months? Intrade.com traders certainly seem to think so..
Filed under:
General Knowledge