More Than 1 Million Repossessions Expected in 2010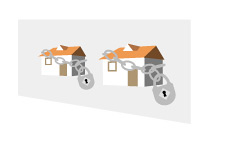 According to RealtyTrac (link below), a record number of US homes were lost to foreclosure in the first quarter of 2010.
That's right - more homes were lost to repossession in the United States in Q1/2010 than any other quarter since RealtyTrac started reporting the data in 2005.
Those who were expecting an improvement in the US real estate market may be a bit taken aback by this news - how could this be possible if the US economy is finally starting to stabilize?
According to multiple sources, banks are finally starting to blast through some of the inventory that has been piling up on their books for a while now. Many banks have simply been unable to keep up with the "glut of problem loans", which has led to a delay in the processing of home foreclosures. Banks seem to be starting to catch up though, which has resulted in a spike in foreclosure rates in the last quarter.
According to RealtyTrac, foreclosures in the United States were up 35% from Q1/09. In addition, the number of households facing foreclosure was up 16% from Q1/09 and 7% from Q4/09.
In particularly sobering news, RealtyTrac expects that there will be "more than 1 million banks repossessions" in 2010, as well as "at least" 4 million foreclosure filings.
The states with the highest foreclosure rates in Q1/10? The Four Horsemen of the real estate meltdown - Nevada, Arizona, Florida and California.
The main two causes for the surge in foreclosure filings - "underwater" mortgages and high jobless rates.
Either people can't afford to make their mortgage payments and have fallen behind due to tight labor markets, or they simply choose not to make the payments due to their home being worth less than what they owe ("underwater"). Whatever the reason, many more people will find themselves without a home by the end of 2010.
Cleaning out the inventory of homes that are to be foreclosed may continue to depress the real estate market for the short-term, but it's ultimately necessary to go through this process before we can hope to find a bottom.
Source:
RealtyTrac.com
Filed under:
Real Estate News