Q1/2010 "Manuel Fund Report Launches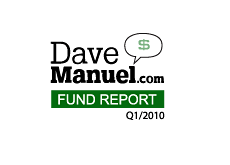 Every quarter, many of the top hedge funds, institutional investment firms, foundation trusts and endowments file something called a Form 13F.
According to the SEC, "institutional investment managers that use the United States mail (or other means or instrumentality of interstate commerce) in the course of their business and that exercise investment discretion over $100 million or more in Section 13(f) securities" must file a Form 13F.
Berkshire Hathaway, Citadel Advisors LLC, SAC Capital Advisors LLC, Paulson & Co Inc - just some of the "institutional investment managers" that need to file a Form 13F every quarter.
These filings list all of the Section 13(f) securities that these companies owned at the end of the quarter (short positions are not included in a Form 13F filing). This can include stocks, options, debt, etc.
Looking through these filings every quarter allows you to take a peek at some of the inner workings of the world's largest money managers. It doesn't give you an entirely accurate picture (as mentioned, short positions are not included), but it does tell you which securities the biggest funds are buying and selling.
Some funds have thousands upon thousands of positions included in their Form 13F filing every quarter, so trying to figure out exactly what they are buying and selling on a quarterly basis can be a bit confusing.
So here's what I did.
I took 97 of the largest money managers in the world (including the likes of Berkshire, Paulson, etc), added all of their positions into my database (from last quarter and this quarter), compiled and processed all of the information and then created a report. In total there were 53,185 positions spread out over the 97 firms in Q1/2010 (including stocks, options and debt) that included a total of 8,466 new buys, 7,502 new sales and 25,322 changes to existing positions.
With this report, you are able to see exactly what the largest funds in the world were buying last quarter. In addition, and most importantly, the report shows you the aggregate data and identifies interesting trends.
For instance, it is fairly easy to find out what John Paulson was buying and selling last quarter, but it's not so easy to find out which were the top five most popular nanocap stocks (nanocap meaning having a market cap of between $0 and $50 million) in terms of new purchases last quarter (based on the data provided by the 97 different funds). For instance, which company that currently sports a market cap of less than $10 million is currently owned by 8 of the 97 funds that we are tracking? That's useful information.
Or, how about finding out which were the top five most added to positions during Q1/2010?
Or, how about finding out which were the top five midcap stocks that had the most new buys in Q1/2010?
Or, how about finding out which were the top 100 most widely held securities at the end of Q1/2010?
The "Manuel Fund Report" contains all of this information and much more. The entire report contains over 200 pages, including individual breakdowns of what these 97 different funds were buying and selling last quarter.
The people who run these funds are some of the best and brightest investors in the world - names that include the likes of Warren Buffett, John Paulson and Steven Cohen. Who wouldn't want to know what these guys are buying and selling?
More information about the report (including a sample page from the Q1/2010 report)
can be found here
.
Filed under:
Stock Market Education